Overview

I am trying to hitch a Burley Travoy cargo trailer to a TiLite ZRA wheelchair. We want to use it when my husband uses his Spinergy ZX-1 Power Add-on when we are Spinergy ZX-1 Power Add-on inside of shops so that I can be hands free to shop. We might also possibly use it when traveling to carry luggage.

It won't be driven at high speeds or on rough ground. I also don't imagine it will be very heavy loads, maybe 40-50 lbs / 18-22 kg maximum, which is well withing the weight limit with him in it for the ZRA.

The only other option I can think of is to attach it to the arm rests of the ZX1, but then he will be super wide and it will be hard to manoeuvre and will also be very low to the ground.

The hitch on the Travoy is designed to mount on a vertical bike seat post.


These are the specs for the hitch:
Hitch mounting height: 28-34 in / 71-86 cm
Hitch diameter: Ø 25-32mm seat posts (M6 bolts)
My husband has a folding titanium adjustable height seat back that locks when folded with a 4" deep backrest rigidizer bar. These are the specs for the wheelchair rigidizer bar:
Wheelchair rigidizer bar height: 22 in / 56 cm
Wheelchair rigidizer bar diameter: is Ø .75 in / 19 mm
Using a TiLite push handle clamp
I am thinking that maybe I can mount Ø .75 in / 19 mm tubing vertically using a push handle clamp that is meant to mount on the rigidizer bar. I have some spare 6-8 in tubing pieces that would allow me to raise it so that it would fit the hitch mounting height.
The good thing about using this clamp is that I could remove the tube when it is not in use, but the clamp would need to stay on the rigidiizer bar. I would also need a shim to fit the hitch at Ø 1 in / 25 mm on the Ø .75 in / 19 mm  tubing.
Using a handlebar stem
Someone on the CareCure equipment forums gave this idea. I had looked for other options, mostly seat post connectors, but had not looked at handlebar stems because I thought they would be too big. After looking more I think that the sizes for BMX and cross bike stems (7/8 in / 22.2 mm) and handlebars would work quite well, probably with only a bit of inner tube tire as a shim.
A-head stems (threadless stem)
For a threadless stem (A-head stem) I would only need to find a short piece of tube.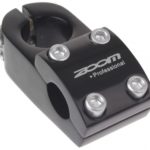 Zoom Stuurpen Voorbouw Vast BMX 28,6 / 50 / 22,2 mm Zwart
- Materiaal: aluminium
- Diameter stuurpen: 28,6 mm
- Kleur: zwart
- Lengte voorbouw: 50 mm
- Aantal graden: 0°
- 4-schroefs klem
- Klemdiameter: 22,2 mm
- Inclusief RVS schroeven
- Type fiets: BMX
- Verstelbaar: nee
- Gewicht: 304 gram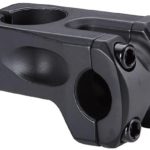 VWP stuurpen voorbouw BMX 22,2/50/28,57 mm zwart
Kleur: zwart
Materiaal: aluminium
Type fiets: BMX
Verstelbaar: nee
Diameter stuurpen: 22,2 mm
Klemdiameter: 28,57 mm
Lengte voorbouw: 50 mm
Aantal graden: 17°
Gewicht: 265 gram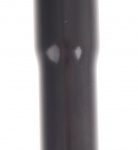 VWP Stuurpen Verlenger Cr-Mo 25,4 / 210 / 28,6 mm Zwart
- Kleur: Zwart
- Materiaal: Cr-Mo (staal)
- Verstelbaar: Nee
- Binnen diameter stuurpen: 25,4 mm
- Buiten diameter stuurpen: 28,6 mm
- Gewicht: 288 gram
- Lengte stuurpen verlenger: 210 mm
Quill stems
For a quill stem, I would only need to invert it and remove the quill, but the angle would make it stick out a lot unless it is adjustable.