Initial photo's
We received the TiLite ZRA a few days ago, but we needed to do some reconfiguration before taking pictures. We swapped out most of the parts we bought separately, but still have a few more to do.
Overall, we are really pleased with DU100082 for the Flip-up Footrests. These were really challenging to spec, but the results work well and Rob is able to foot propel and use the footrests comfortably.
Finally, we have a few pictures to post (if you click on them you can see the larger image). When we get everything on, I'll take some more pictures.
And some more pictures of just the chair:
Final CAD drawing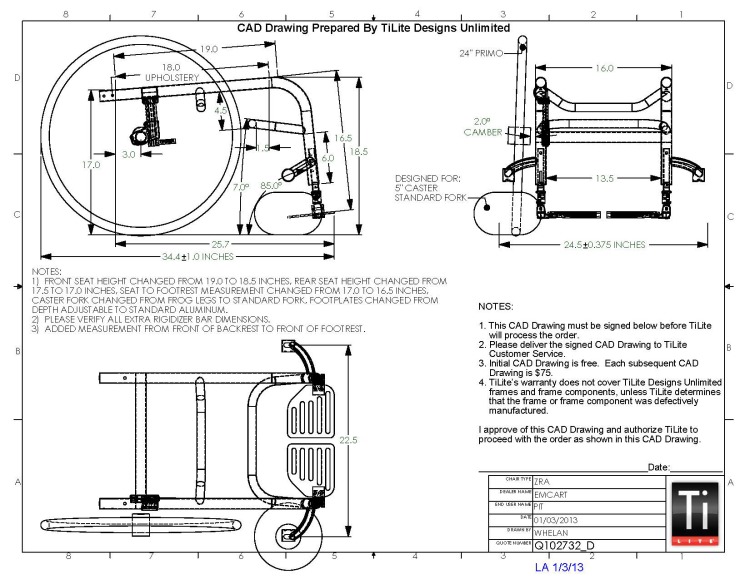 Specifications
SN #: 11926017
Date Shipped: 2/28/2013
Region Purchased: NETHERLANDS NL
Z2FS2 TiLite ZRA K0009 E1229 $2795
Z2TTDO TRANSIT TIE DOWN $300
Z2FF1 SATIN FRAME FINISH STD
Z2ANO1 BLACK ANODIZE PACKAGE STD
Z2SW4 16" SEAT WIDTH
Z2FSW1 NO SEAT TAPER - STANDARD
Z2SD1 18" SEAT DEPTH
Z2SD3 19" CUSTOM FRAME DEPTH NCO
Z2FSH1 18.5" FRONT SEAT HEIGHT
Z2RSH1 17" REAR SEAT HEIGHT
Z2FA1 85 DEGREE FRONT ANGLE
16.5" SEAT TO FOOTREST
DESIGNS UNLIMITED DU100082 ADJ FLIP-UP $435
NO TAPER FOOTREST
Z2FE1 13.5" FOOTREST WIDTH
Z2FE2 NO V-FRONT TAPER
Z2SB2 FOLDING TITANIUM BACKREST $175
Z2SB11 LOCKING BACKREST NCO
Z2SB3 ALUMINUM BACKREST RELEASE BAR STD
Z2SB7 INTEGRATED FOLD DOWN PUSH HANDLES $100
TI 14.5"-19" FOLDING ADJ-HT BACK
17" SEAT BACK HEIGHT
Z2SB12 4" DEEP BACKREST RIGIDIZER BAR NCO
Z2SBA1 92 DEGREE SEAT BACK ANGLE
Z2COG1 3" CENTER OF GRAVITY
Z2RWS1 1" REAR WHEEL SPACING
Z2CBR3 TITANIUM 2 DEGREE CAMBER $50
ADDITIONAL REAR WHEEL SPACERS NCO
5" FRONT WHEELS
Z2FW6 PLASTIC WHEEL W/POLY CASTERS NCO
Z2FK1 STANDARD FORK STD
24" WHEEL SIZE
Z2RW14 TiLite SHADOW WHEELS STD
Z2AXL1 STAINLESS QUICK RELEASE AXLES STD
Z2RTR4 PRIMO TIRES NCO
Z2RIM1 SILVER ANO HANDRIMS STD
Z2RIM7 LONG HANDRIM TABS STD
Z2WLK7 COMPACT COMPOSITE PUSH TO LOCK STD
Z2UPC1 BLACK UPHOLSTERY STD
Z2BUP1 VELCRO ADJ BACK UPHOLSTERY STD
Z2SUP2 TENSION ADJ BY STRAP SEAT UPH $150
Z2ARM1 SWING AWAY ARM 9"-12" E0973 $195
Z2TIP2 USER FRIENDLY ANTI-TIPS E0971 $245
Z2HS1 TILITE 9 PIECE SAE H KEY SET NCO
Product Information
The Z's 1.25" Mono-Tube frame is 20% lighter than its predecessor but retains titanium's 44% strength advantage over 7000 series aluminum.
Tru-Fit System:
Reduces the number of holes in the frame, improving durability.
Allows for easy adjustment and reduces set-up time.
Adjustable Camber Mount incorporates TiLite's Tru-Fit system with up to 3.5" of Rear Seat Height adjustment.
ZRA's SpeedLoader Adjustable Front Caster Housing (patent pending) quickly and accurately adjusts Fork Angle in 1˚ Increments.
SlipStream Single-Sided Fork with Integrated Bumper (patent pending).
Performance 5-Spoke Soft Roll Wheel weighs just 1.6 ounces, shaving 40% from the weight of the original, 3-Spoke Wheel.
TiShaft back release bar makes folding and unfolding the backrest easy from any angle.
TiFit IS EXCLUSIVELY OFFERED BY TiLITE.
The difference between a TiFit chair and all other chairs is that a TiFit chair is tailored specifically to you: Every frame is made to measure. No tube is cut, bent, or welded until our skilled fabricators have a full-scale drawing of your chair based on your exact measurements. Only TiLite offers TiFit. The optimal fit of a TiFit chair brings unparalleled performance and function. You will feel the difference in everything you do.
CUSTOM CONFIGURATION THE TiLITE WAY.
Custom configuration is when you are able to select options and components on a chair to meet your needs. While other companies offer some custom configuration, TiLite offers the widest range of options from which to choose. More choices mean more ability to truly create a custom configuration of options that best meets your needs. Choice matters and that is why TiLite offers more options than any other manufacturer! The choice is yours.
PERFORMANCE.
Wheelchairs that perform well combine superb fit with unparalleled quality of construction and the right blend of options. You owe it to yourself to experience the super smooth ride of a custom-built titanium wheelchair that fits perfectly. It will perform as well in 5 years as it does today.
STYLE.
Can a wheelchair be cool? What is cool? At its core, it's a material object infused with human energy. On the new ZRA you can choose from more options than any other manufacturer, including over 20 frame finishes, six color anodize packages, and titanium tattoos! The Z Series – infused with human energy – yours. Now that's cool.