What we decided on...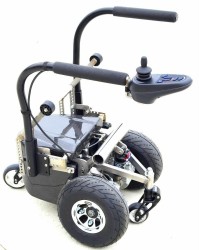 Extend your freedom with our revolutionary ZX-1 Power Add-On offering lifestyle enhancing mobility. The ZX-1's modern, lightweight design is highly maneuverable, easy to operate and is packed with features allowing you to engage in more day-to-day activities with style.
Click here to download the Brochure.
The ZX-1 has two drive motors, each having a power rating of 320 Watts (746 Watts is equivalent to one horsepower). The joystick controller can be ordered for either left-hand or right-hand operation.
ZX-1 User Profile
There are many different type of users that the ZX-1 is a good fit for. Generally, they are those that have upper body limitations, those who do not want a large power chair, and those who do not need all of the features of a  power chair or use it full-time.
Users who require a power chair sometimes but prefer to stay active in a manual chair.
Users who require a power chair but need the portability of a manual chair.
Users who are not able to transport a power chair.
Users who do not require full power chair features, like tilt-and-recline, high speed, etc, .
Users who require basic power chair functionality with a small footprint.
Users who need to easily separate the manual chair for accessibility.
Users who have upper body and limb weakness, strain and/or injuries.
Users who are in recovery post shoulder surgery.
Users wishing to minimise the risk of shoulder injury.
Users who fatigue over the course of the day.
Users who are not able to use other power add-on options such as the SmartDrive or power handbikes because of  inadequate upper body, arm and hand control due to paralysis, hemiplegia/hemiparesis, cerebral palsy, multiple sclerosis, joint disorders, muscular disorders, and injuries and amputations.
ZX-1 Specifications
ZX-1 Chair Requirements
Rigid frame with a horizontal round camber tube
Camber tube mounted level with wheelchair rear wheel axles
Free of obstructions under camber tube
Camber Tube Diameter 1.25", 1.375", or 1.5"
Unobstructed camber tube Length 9" or greater
Space Between Anti-Tip Mounts 9" or greater
24", 25" or 26" wheelchair rear wheels
15"-20" rear seat width (14" can be used with some configurations)
Minimum of 6" of space between camber tube and front caster wheels or footplate
Center of gravity set at 5" or less
If armrests exist on wheelchair, they may need to be removed, and possibly also the armrest brackets.
ZX-1 Dimensions
Height: 30" (Floor to top of Joystick)
Width: Up to 20" (not Including armrests)
Length: 24" (From Front FrogLeg fork to rear of cover)
ZX-1 Warranty
Lifetime warranty on frame
6-month warranty on batteries
1 yr. warranty on all other components
ZX-1 Product Photo's
Overview of our requirements
We are looking for a power add-on for an ultralight rigid frame wheelchair (probably a TiLite ZRA). It will primarily be used outside at the house in the garden and shed, around the neighbourhood, at the nearby nature area, going to stores, visiting friends and while doing hobbies like painting and theatre.
It will also be put into the auto so it can be used to visit family and friends and going to events, and when traveling by airplane. We think it will be used inside the house some of the time also, and at places like restaurants and pubs where a manual ultralight wheelchair on it´s own is better to get around.
We will be trading in an expensive power wheelchair that he almost never uses because he can´t get into places with it because of curbs (almost everywhere) and he can´t take it to most of the places that he would like to go, because it can´t be put in our auto. We live in a rural area, and an auto is needed for almost everything we do.
Overall, my gut feeling is that the first type, a drive unit connected under the wheelchair will be the best for Rob, but they are slower and have less range. Of these, we like the ZX-1 by Beach Mobility, which the the rights for development and manufacturing are now being done by Spinergy, a well respected wheel company. The inventor Pat Tallino is also a wheelchair user, and what I like about it is that it's purpose built for adding power to a wheelchair easily, using already proven wheelchair components. It's also really easy for Rob to use on his own, which is really important for him (and me) that he can get some independence back.
Our requirements are
Range around 30 kilometers / 18.5 miles (more is good, but not necessary)
Speed around 7-10 kilometers per hour / 4.3-6.2 miles per hour (more is good, but not necessary)
Easy to self ride with one hand, due to hemiparesis, weakaness in one side of the body.
Not a big footprint to be able to negoiate around obstacles, doorways and crowded places.
Ease of use (not complicated) with all of the instruments and brakes on one side.
Cost in combination with an ultralight manual wheelchair that is lower than a power chair.
Easy to self connect/disconnect, or with minimal assistance from others, with no use of tools or heavy parts to move.
No heavy adapter/mounting system when it is not in use, so that the manual chair is not weighted down when self propelling.
Do not want modifications to the manual chair that compromise it's use when being used manually
Abiliity to handle ramps, inclines, and small curbs with safety mechanisms for brakes, tips and lights,
Built in suspension to help with bumps to avoid seizures, and the ability add a third-wheel,
like the FreeWheel, to help minimize bumps from the wheelchair front casters.  .
Ability to be separated from the chair for places that are not fully accessible, which is common in Europe.
Easy to leave unattended and locked so it does not get ripped-off if we leave it outside.
Easily transportable to take in the auto or on airplanes, with charging possibilities in other countries (Europe, UK, US, etc.)
Easy to maintain with parts that can be replaced easily and cheaply online, without needing to order through dealers or wait for repair people.
Latest technology with light weight long running batteries, preferably Lithium-ion polymer (li-po) as of the date of this research.
The ability to add a rack in front to be used when shopping and lights for driving at night.
It would also be good if the power add can also be used with a TiLite 2GX folding ultralight wheelchair.
Our requirements are not
Other Power Add-ons with fixed mounts on the chair like AAT max-e, Benoit Solutions Light Drive, because they are not easily connected with one hand and too heavy to leave on the chair when not in use.
A Power Handbike because we are looking into this separately.
A Power / Manual Assist, like Decon E-Move, Alber e-motion, NuDrive, Wijit, Rio Mobility Pivot, etc, because it needs to be operated with one hand (due to hemiparesis) and these can not be.