Fitting Marathon Plus Evolution tires on Spinergy rims
See this post on CareCure: Fitting Marathon Plus Evolution tires on Spinergy rims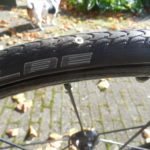 After 2 ½ years it's time to replace the Schwalbe Marathon Plus Evolution tires. Rob has a puncture from a ½ inch screw. I had meant to do this earlier and had done all of the research, but never got around to buying the supplies and tools. Luckily we have backup wheels he can use while I sort this out. I'm not really looking forward to it, but hopefully it won't be too bad. If all else fails, I'll bring them to the bike shop.
Supplies and tools
Tires
We prefer the Reflex reflective strip for safety. On the Schwable website these seem to have been renamed to Marathon Plus HS 440. Prices shown are MSRP for ONE. See (540) Schwalbe Marathon Plus Evolution Tires.
| Art.No. | ETRTO | Size | Performance | Feature | Color | PSI | Weight | EPI | Tube | Price |
| --- | --- | --- | --- | --- | --- | --- | --- | --- | --- | --- |
| 10283440 | 25-540 | 24 x 1.00 | SmartGuard | 2grip - Black'n'Roll | Black | 85-145 | 500 g | 67 | 9A | $53.47 |
| 10282440 | 25-540 | 24 x 1.00 | SmartGuard | 2grip - Black'n'Roll | Black-Reflex | 85-145 | 500 g | 67 | 9A | $57.37 |
Tubes
We think this is the best tube and the correct size for 25-540 MPEs. Price shown is MSRP for ONE. See  http://www.schwalbetires.com/wheelchair/tubes.
Valve types
We prefer the Auto , Schraeder Valve. You can find more information regarding valves on the Schwalbe website.
Schrader valve (also called American valve or auto valve) is automotive-style air valve  The auto valve is becoming increasingly popular as it can easily be inflated at service stations and is very user friendly. Older, as well as simple bicycle pumps are not compatible with auto valves.
Presta valve (also called Sclaverand valve or French valve) is a narrow valve used on most high-performance bicycles, and all tubulars.
Dunlop valve, (also called a Woods valve or an English valve)   are the most common in much of Europe and Asia. It has a wider base than a Presta valve, similar enough in size to a Schrader valve to use identically drilled valve holes in rims. It can be inflated with a Presta valve adapter, but I find that it's hard to find Schrader (auto) valve adapters for Dunlop valves.
Rim tape
The rim tape protects the tube from mechanical damage by spoke ends, metal burrs and holes in the rim. We are using Schwalbe High Pressure Rim Tape. I had some confusion about the width to use because the tires are 25-540. See http://www.schwalbetires.com/accessories/rim_tape.
Luckily Nonoise from CareCure let me know that he was recommened 16 mm. THis makes sense to me because I remember asking Spinergy what the rim width was, but I don't seem to have documented it (I think maybe 21C?), and I definitely do not know what the rim well width is, which is what Schwalbe seems to be basing the ETRTO size on. Price shown is MSRP for ONE.
| Art.No. | | Wheel Size | Width | ETRTO Size | Price |
| --- | --- | --- | --- | --- | --- |
| 10870086 | | 24" | 16 mm | 16-540 | $2.42 |
Note: it is not necessary to change the rim tape if it looks to be in good shape, e.g., that it is not showing any signs of dimpling at the spoke holes and there are no cuts or tears.
The rim tape must cover the entire rim well. If the rim tape is narrower than the rim well it can slide and expose the spoke holes. From left to right: what the Schwalbe website shows for "Which rim tape should I use?", Spinergy Rim Strip CP103882 that TiLite uses on 24" Spinergy LX wheels, a photo from Nonoise on CareCure showing the 16mm Schwalbe High Pressure Rim Tape on Spinergy, and some other photos:

Tire levers and jacks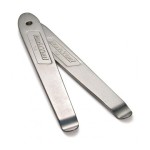 These are considered the standard in the bicycle world for removing difficult tires.
The TL-5 Heavy Duty Tire Lever Set is designed for use on the toughest tire and rim combinations. Made of forged steel, these beefy levers are a full 8" (20.3 cm) long for superior leverage. Specially designed tip engages tire bead so it can be removed with just two levers. Ideal for difficult to remove downhill and freestyle tires. Set of two. Amazon $23.36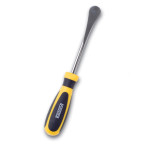 This is another one worth considering for removing difficult tires. Especially the handle looks llike it would be good for torque.
Heat-treated tool steel construction for unmatched strengt. 275mm length for incredible leverage on tough downhill and freeride tires. Large shovel tip holds tight on bead while smooth finish protects tire and rim. Ergonomic handle provides comfort and security. Item #: 6400025 Price: $15.00. Amazon $13.75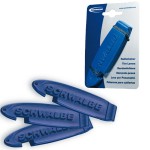 These are one of the standards in the bicycle world for plastic/nylon levers. I wanted to try these because I think they might be easier to attach the hooks to the wider Spinergy PBO spokes, and also for use in the backpack when we are not at home. They are made by Park Tool who have a good reputation for bicycle tools.
The special shape of the lever reduces the danger of the tube being pinched during installation. When removing a tire, the lever can be snapped onto the spoke - leaving hands free for the second lever. The high-quality plastic is virtually unbreakable. Levers can be clipped together for easy storage. 3 piece set. SKU: 1388, Price: $4.78. Amazon $8.50
These are one of the standards in the bicycle world for plastic/nylon levers. I wanted to try these for use in the backpack when we are not at home. Guide: How to Remove a Tire
Award winning, universally loved, and available in bright yellow, pink, green, and orange colors. Molded box construction and proprietary plastic blend makes these the strongest levers available. Chisel tip shape is easy to insert beneath the bead and the slightly thicker shape keeps the tire lever from slipping. Bold shape makes it easy to remove the tightest of tires without bending or breaking.Yellow Tire Lever Pair, Item #: 6400050, Price: $5.00. Amazon $4.69
The Kool Stop Tire Bead Jack is used to help when fitting the tire to avoid pinching the tubes. Sheldon Brown recommended it at What Every Cyclist Should Know About Flat Tires.
The Kool Stop Tire Bead Jack is an articulated tool, with a comfortable grip, for installing really tight tires. The articulated end uses the rigid piece against the rim edge as a fulcrum while the hinged end lifts the bead up and over the opposite edge of the rim. This is a great tool for dealing with difficult tires. Part #: KS-TJ. Amazon $12.72. There is something similar on Sportaid a Tire Wheelchair Bead Jack, which I suspect is a Kool Stop.
This a good video showing it being used on some difficult Continental tires:
I noticed that this lever might be a good option for people with limited hand function, and I may add it to the bag of tricks also. Knuckle-saving tire lever that removes and installs cycling tires. $7.99 / €7.00. Amazon $6.50. Watch the video from Crank Brothers.
https://www.youtube.com/watch?v=-ilaXTL60e8
Mounting lubricants
Some do not use any lubricant when fitting MPEs. Others swear by it and use dish soap or a household spray cleaner, and still others swear by bath power.
Easy Fit - Tire Mounting Fluid made by Schwalbe. Nonoise on CareCure called this "Snot" -- I'[m not sure if that is a well know name for it or not, but I kind of like it. The good thing about his is that it will not work its way under the rim tape or damage the tire.
A practical sponge applicator allows the liquid to be applied to the tire bead very simply and without smudging fingers. When inflating, the tire bead slides easily into the correct position on the rim. The liquid completely evaporates after about 10 minutes! SKU: 3700, Sponge applicator, 50 ml, Price: $7.70.
Uncle Dick's Bead Slip is another I have heard is good. It is a brush on paste designed to aid in tire installation (rather pricey at $19.99 for a 2.7 oz tin).
Compressors
Einhell BT-AC 180 Compressor
We wanted a good compressor at home for maintaining high pressure wheelchair tires (8-10 bars). We have tried the type that are 12 V DC or have a battery with an AC charger, but have not been happy with them at all (both worked only about 1 year). We wanted one that was 230 V and somewhat compact. Unfortunately, we could not find it in the bars/psi we wanted, and had to return the original compressor (see below).
I checked on the Schwable site, and also on the tires themselves, and the Marathon Plus Evolutions are rated for 6 -10 bar (85-145 psi). The recommendations for Inflation pressure are for an "average rider" weighing about 75 kg.  With Rob being lighter, and also needing a bit softer of a ride, we think 8 bar (116 psi) is a good pressure for a softer ride, and sometimes we keep them as low as 100 psi. I would have preferred the option to have 9 bar (130 psi) or 10 bar (145 psi), but will wait to see how things go before doing that. If I have to lug a big tank system around there is less chance that I will do it consistently, which is probably worse.
We decided to go with a motor driven compressor, rather than piston driven with a tank. Einhell is a good German make, and has good reviews for high pressure wheelchair tires. It also comes with the necessary attachments and is not too expensive.
Pressure guages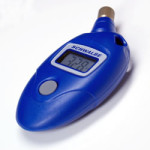 Although compressor has a pressure gauge, I find that it is often difficult to read and it needs to be pulsed to see what the pressure is, sometimes causing me to add more air than I would like I've heard that this is one of the best for not leaking air (Spinergy recommended) and it also works on Presta valves.
The digital pressure gauge is very precise, measuring pressures up to 11 bar and is suitable for both Auto and Presta valves. It will also function with Schwalbe's "classic" bicycle valve. SKU: 6010 Price: $25.35. Amazon $29.99.
CO2 Inflators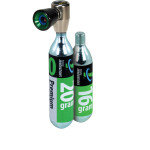 Push-To-Inflate technology  for fast, easy & controllable single-handed CO2 bicycle tire inflation!
 All metal design. Only 16 grams!
 Fits Presta and Schrader valves. 
Works with all Genuine Innovations 12, 16, 25 gram threaded CO2 cartridges! (Not 45 gram cartridges.). Part Number: G2673. Instructions / Manual. Amazon $16.99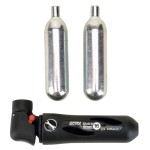 Compact and fast, the Spin Doctor Quickshot Pro CO2 Inflation System delivers precise, controlled flow of CO2 to get your tire back up and ready to roll. Works with Presta and Schrader valves. Compatible with threaded and non-threaded cartridges.cartridge size:Threaded: 12g, 16g, 25g; Non-Threaded: 12g, 16g
Patch kits
In general, it's not really worth it to repair inner tubes, unless you are in an emergency situation and don't have a spare tube. Whatever you do with the tube, you will more than likely need to re-do shortly afterwards, regardless of how well it was done. If you do find yourself without a spare tube, you might as well do it the best you can, and maybe you can get a little bit more use out of it before needing to replace it.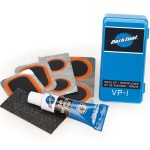 This is a good emergency repair patch kit if you do not want to have to replace to tube right away.
The VP-1 Patch Kit includes six thin and flexible patches with tapered edges to blend with the tube's profile.  Each kit is packaged in a small plastic box with sandpaper for cleaning the tube and instructions.. Amazon $3.69
Fitting a Marathon Plus Evolution
Video: How To Repair a Flat Wheelchair Tire
Courtesy of  at Paralyzed Living
Video: How to fit a Marathon Plus
This is another video that shows doing it without levers or lubricant, but many I have talked to have never been able to master this.
What about tubeless tires for wheelchairs?
I've looked into this, but at this date still do not consider it an option for us. The biggest reason is that our Spinergy LX's are not "tubeless ready" -- marked with the UST insignia (Universal Systeme Tubeless) rims.  The other important reason is that fitting is more complicated as well as changing the tire because the old sealing fluid has to be cleaned out. It also takes a while for the tire to be ready for use -- can take up to 3 days for consistent sealing. See Schwalbe Tubeless Ready.
Replacing Spinergy LX Rear Wheel Bearings
This should not need to be done very often.
For more information about bearings, see Front Forks / Casters Maintenance.
Recommended Types (need to update)
TiLite Part # HD100011
| | |
| --- | --- |
| Dimensions - d (inside diameter) | 12.70mm |
| Dimensions - D (outside diameter) | 28.58mm |
| Dimensions - B (width) | 7.94mm |
Specifications
Size:

SAE:

1/2" x 1 1/8" x 5/16"

ID (inner diameter)/Bore=12.70mm (SAE

1/2"

)

OD (outer diameter)=28.58mm (SAE

1 1/8"

)

Width/Height/thickness=7.94mm (SAE

5/16"

)

Quality: ABEC-5 or similar

Material: Stainless Steel

Balls:

Stainless Steel or

Ceramic (Silicon Nitride)

Closures: Double sealed with rubber seals or shielded metal