Overview of Other Options
The following are other options that we considered instead of the Spinergy ZX-1. For various reasons, none of them fully fit our requirements. At the bottom is a comparison of all Power Add-ons listed, though some of it may be out-of-date.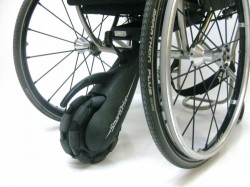 The SmartDrive is a revolutionary new power assist device that will change your life. It can power you up steep hills and through thick carpet. It is intuitive to use, just push to go and brake to stop, its that simple. It will go for days on a single charge. Plug in and get out there!
The SmartDrive is surprisingly powerful. You can cruise up the steepest ramps and sidewalks. Even a thick padded hotel carpet is no problem. The SmartDrive has an anti-rollback feature that allows you to stop on a hill and then easily get going again.
Using the SmartDrive is natural. You push to go and brake to stop, it's that simple. To go slow, push slow. To go fast, push fast. The SmartDrive is like a cruise control and you set the speed by the speed of your push. You turn using the pushrims, just like you would turn while going downhill.
The SmartDrive is lightweight and easy to install. The battery weighs 8 lbs and the motor weighs 11 lbs. The battery slips under the seat and the motor attaches to a hitch on back of the chair. The SmartDrive fits on almost any wheelchair, including folding chairs.
The SmartDrive is likely covered by your insurance, including Medicare, the VA, Workers Comp, and most private insurance. The insurance billing code is E0986. You will need to get a prescription for the SmartDrive from your doctor or therapist. You can print out this flyer and bring it in with you.
The SmartDrive reduces the number of repetitive pushes you do each day by taking over once you get going. It does not do all the work, so you are still getting plenty of exercise and activity. It just protects you from pushing too much.
Your insurance will not cover preventative medicine, so you need to qualify based on a condition that limits your independent mobility. There are many ways to qualify, including: pain in your shoulders or wrists, easily fatigued by pushing, difficulty pushing over carpet, or difficulty pushing up ramps or hills. It is up to you to protect yourself and ensure your shoulders stay healthy. Remember, you are your best advocate. Good luck!
Specifications
Speed – 1.5 – 5.5 mph
Range – 10 miles
Indoor Mode
Outdoor Mode
Battery – Li Fe PO4 – 24v 10 Ah
Weight – 8lb battery, 11lb motor
Motor – 250 W Brushless DC
Push Activated Cruise Control
SmartDrive Videos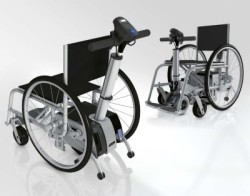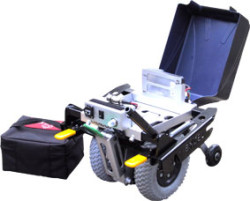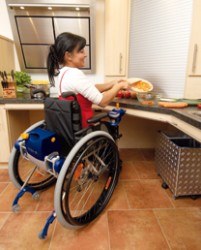 Overview of Specifications
Power Add-ons
Beach Mobility ZX1
* Need to update with Spinergy specs
MAX Mobility SmartDrive
Otto Bock z10 / z10-ce
Price basic configuration *=estimated
$7,995.00
$6,933.75 / $6,450.00 (€5,314.42 / € 4,943.41)
?
One arm self connecting
yes
yes
yes, steering unit / no, drive unit
One arm drive (right side)
yes
yes
yes
Ease of use
Easy control unit, easy to use, easy mounting.
Push to go/brake to stop, easy to use, moderate mounting.
Moderate control unit, moderate to use, difficult mounting.
Frame / Housing material
Stainless steel frame, Carbon fiber cover
?
Metal anthracite metallic
Steering wheels
2 Frogleg forks with Aluminum Hubbed Softroll Casters (front/back)
?
2 8 in airless wheels (front)
Drive wheel
2 (back) cambered
1 (back)
1 10 in airless puncture-proof (back)
Brakes
yes
?
yes
Reverse
yes
?
yes
Anti-tipper
Anti-tilt mechanisms
n/a
Swinging anti-tipper
Speed / levels
5 kph / 3.2 mph 5 speed levels
(can be extended to 6.5 kph / 4 mph)
? kph / 4.5 mph
6 kph / 3.7 mph, 5 speed levels
Range
8 km / 5 mi
? km / 10 mi
25 km / 15.5 mi at a medium speed
Maximum climbing ability
?
?
20%
Maximum obstacle height
5 cm / 2 in
? cm / ? in
4 cm / 1.5
Weight Drive unit (without battery)
25.4 kg / 56 lb
4.9 Kg / 11 lb
21 kg / 46 lb
Weight Battery pack
8.6 kg / 19 lb
3.6 Kg / 8.3 lb
3.8 kg / 8.3 lb
Weight adapter/mounting
n/a
n/a
1.0 kg / 2.2 lb
Weight steering unit with adapter/mounting
n/a
n/a
8.0 kg / 17.6 lb
Total weight without adapter/mounting
34 kg / 75 lb
8. kg / 19 lb
34.3 kg / 75.6 in
Adapter/mounting Connection system
On camber tube. Automatic. Easy.
On camber tube and seat sling/base. Automatic.Easy.
Bolts with locking pins with adapter plates. Difficult.
Wheelchair compatibility
Any ultralight rigid frame with a solid camber tube that is 1 1/8" to 1 1/4" in diameter. 15 1/2" wide at the drive wheels. Titanium or Carbon Fiber camber tube are recommended. There needs to be at least 6" of clearance in front of the camber tube.
Minimum chair width is 15" but it depends on the actual length of the camber tube and the amount of camber. May need to remove the armrests before attachning.
Drive wheel diameter: 22, 24, 25 or 26 in
Minimum seat width: 10 in
Minimum seat depth: 12 in
Maximum seat depth: 20 in
Minimum under-seat clearance: 2 in
Axle receiving tube diameter: 1-1/4, 1-3/8, 1-1/2 or 2 in
minimum 38 cm /15 in x 38 cm /15 in
Stand
n/a
n/a
n/a
Battery type
2 12v 15ah AGM batteries.
Lithium-Ion (Lithium Iron Phosphate)
24V / 18.4 Ah Lithium-ion
Battery lifetime (complete charging cycles)
?
?
700 cycles
Control unit
Joystick
n/a
enAble 40 Handlebar
Operating voltage
24 V 250 W
24 V DC
Maximum motor current
70 A electronics
10 A
60 A
Light module (front/rear)
?
?
Hella HL 2000, optional
Otional accessories
?
?
?
Charger type
24v 4 Amp charger
?
Mentzer http://www.mentzer.de
Charger Mains plug (EU, US, UK)
EU? / UK? / US
EU? / UK? / US
EU / UK? / US?
Manufacturer/Location
Spinergy, Carlsbad, CA USA
MAX Mobility, Antioch TN USA
Otto Bock, Duderstadt DE