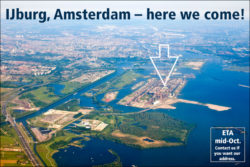 We just moved into a larger apartment down the hall. I have not had time to update this page, because I a too busy packing! Check back soon...
The area is a newly built cluster of islands called IJburg, about 10 minutes drive outside of the city center. This is a Google maps link. For a city location, it is quite green, close to the water, and fairly quiet. There is a tram service into the city center that takes about 20 minutes, and is wheelchair accessible, so we won't need to own a car.
Because it is a new area it is very well planned, there are almost all the services needed, and there is an eclectic population with a lot of community involvement. There are nice restaurants, arts, music, theatre, a beach, a marina, gardening places, etc. Overall a good place for us. So even though the apartment is small, we will have enough to do close by.
Also because it is new it is overall quite wheelchair accessible by Amsterdam standards, and it's not uncommon to meet "wheelers" almost everywhere you go. We also have some friends in the area from when we lived in Amsterdam before. Overall we think it is a good place for us, and an area we considered moving to 15 years ago, but it was not yet built enough then and we moved to Andijk instead.
The apartment is a normal apartment complex with about 100 apartments. A care organisation has rights to 20 of the apartments in the complex.  On the ground floor they have a care station where the care people are based, along with a community space for all of the residents. The same organisation has a handful of locations in Amsterdam, but we chose this one because it is specifically for stroke survivors, but also in an area of the city we wanted to live. They also organise other things on IJburg that Rob might really enjoy that are accessible and interesting for him, i.e., an art group, theatre, and a blues group.
All of the apartments are fairly small, but normal by Amsterdam standards and adequate. It is an open floorplan with one large bedroom, one small bedroom, a large roll-in shower/WC and a very small 2nd WC, and a very small balcony. They have wide automatic doors for wheelchairs, and an intercom system where Rob can call for help 24/7. There is also a shared outside terrace for all the residents to use. All of the residents are stroke survivors, but most of them live on their own without a partner – we will be a bit unique with me being there also.
In the same building they have a therapy center for PT, OT and GP visits, who will also come to the apartment if needed, and all of them have stroke experience. The concept is that the person who needs care needs to be self-sufficient enough to be able to instruct others for what is needed and be able to request the care. They also must be able to manage other aspects of living, i.e., shopping, appointments, etc., or be able to have other people to help them with these things. This is not a full service care place, but something inbetween, which is what we wanted.
It's hard to explain how things work in the Netherlands for housing. Roughly 30% of people live in rent controlled housing that is based on income. There are very long waiting lists for apartments – in Amsterdam up to 10 years! We are actually over the income limit for one normally, but because of Rob has disabilities we are able to live in one anyway, at a very reasonable rent. We were also not put on the normal waiting lists – just the waiting list for the care organisation.
The good thing is that our rent will only increase slightly over time, but not like normal market rates, so I don't feel like we are at risk like in the free market. We will be paying about half of the free market rates. The apartment complex is a combination of people who own, and people who rent in the free market and rent controlled. I like that, because it makes it mixed income, which makes for a nice mix of people, and it is also quite international.
Also kind of unique in the Netherlands is that apartments usually come with nothing in them. These apartments at least have most of the basics like a kitchen block, shower, so we should be able to move right in after I put new flooring down in the bedroom. Also unique in the Netherlands is that you can pretty much do whatever you want to apartments, so once we have more money and time we can try to make it quite nice. Needless to say, with the difficulty in getting an apartment like this, we don't plan to move again soon and will just take our time in fixing it up.
I was asked about places similar in the US, but I really don't know. The Netherlands is much more socially organised in general than the US. For example, we paid into long-term care through mandatory wage taxes – about 13%, and that is what pays for much of Rob's care, which includes me to be his caregiver part-time and also to be able to hire outside help.
Although the social organisation is good in the Netherlands, there are very few other options for people who want to live on their own, especially with their partner, but still receive care when needed. Currently most of them are in care centers with very small one room apartments for people who need intensive care, but that is also changing over time. The type we are moving into is called Woonvoorziening, or ADL Wonen, but I have no idea how that translates.
I think in many countries, there are options for this, but they are often quite expensive. They also have them here, but the cost was prohibitive. I think the closest I can think of is assisted living places that you can live in your own apartment and receive care as needed, but most of them are set apart from the community, whereas this is just part of it.
What I think is good about the combination that we are doing is that the housing is rent controlled and separate from the care organisation. As long as we agree to a minimum amount of care, we can stay there, but it is totally contingent on needing care, because that is how they make their money. What is not so good is should our situation change, and less or more care is needed, we will probably need to move.
This is a clip from a segment from a series about care in the Netherlands about Nieuw Amstelrade, the care organisation Heel Holland Zorgt 13 March 2016.
I'll will update photo's after we move, but here are a few to give a feel for the place.