Maritime Museums
Zuiderzee Museum indoor and outdoor sea and history museum in the old seaport town of Enkhuizen. Along with a lot of old buildings in Enkhuizen, there are also the Enkhuizer Almanak Museum (almanacs) and the Flessenscheepjesmuseum (ships in bottles) .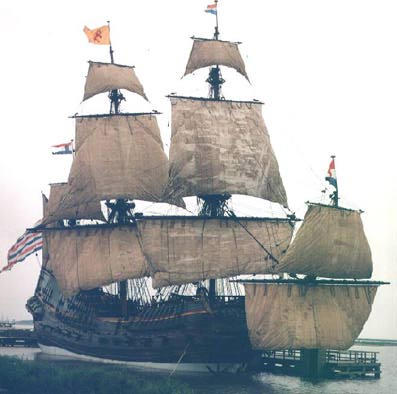 Batavia Werf — if you like old boats this is a working remake from the 1600's in Lelystad. It's well worth a visit if you want to really see what this area was like in the past. There is also the Nieuw Land "polder" museum a few minutes walk away if you want to see how Holland reclaimed most of the land from the sea.
Cultural Museums
Bakkerij Museum (bakery) in Medemblik if you want to see how our house worked 350 years ago as a bakery.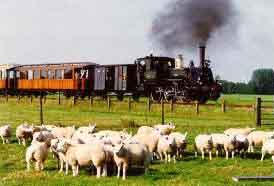 Museumstoomtram (steam tram) goes between Medemblik and Hoorn.It runs twice daily and you can catch it in Medemblik or Hoorn.
Stoommachinemuseum (steam machine museum). There is also a small kids farm next door.
Westfries Museum in Hoorn, "with it's absurd museum filled with rich mixed rubbish" (Aldus Huxley) is not to be missed.
Heiligenbeeldenmuseum (museum of saints) in Enkhuizen where you can see more than 120 different Saints, read their life stories, their weather proverbs and superstitions.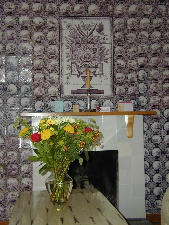 Saet & Cruyt and the Polder-museum Het Grootslag — no trip to Andijk would be complete without seeing our world famous museums about seeds and landfills -- 2 mueums under one roof! They have some old Dutch tiles like ours if you are into that sort of thing.
Hoeden Museum (hat museum) in Andijk.
Museum Broeker Veiling in Broek op Langedijk is a vegetable auction museum.
Farm Museums
Sfeerboerderij Jan Cees Lont in Nieuwe Niedorp. Home and garden decorations and workshops at an old farm house.
In de oude melkput is an old milk farm with activities. The maïsdoolhof is a maize you can walk through.
Imkerij De Bijenstal in Opperdos are beekeepers where you can learn all about bees and making honey. You can also ride on electric boats and play jeu de Boule.
Other Farms
Boerderij De Swaan
Kinderboerderij De Woid
Zorgboerderij De Elsenburg
Logeerstolp Blommenhof
Castles
Kasteel Radboud in Medemblik where we were married. Here is a Map of Castles in The Netherlands.

Theme Parks
Sprookjeswonderland (fairytale wonderland) in Enkhuizen. Although not really a museum, it is a bit of a musuem to what theme parks use to be before Disney came along. Very nice for the small kids and also the gardens are nice.
Six Flags Holland a modern theme park about 45 minutes away in Biddinghuizen.
Fort Kijkduin the Kijkduin Fortress was built by the French emperor Napoleon.
Dolifnarium a theme park with a large collection of marine mammals and shows in Hardewijk about 1.25 hours away.
Windmills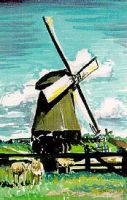 Museummolen Schermer is a working water mill from the 17th centry in Schermerhorn.
Molendehoop is a small working flour mill  in Wervershoof where you can also bring away your own ground flour.
De Krijgsman in Oosterblokker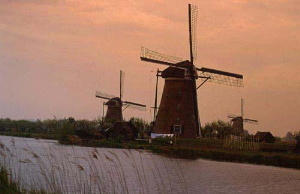 Zaanse Schans If you are coming up from Amsterdam, stop at the in Zaandam where you can see many windmills and also a musuem. It's a nice place to walk around for a few hours, and they also have restaurants and other things to see in the park.
Cheese Markets
Dutch Cheese Museum one of the most famous markets in Alkmaar (50 kilometers west).
Edam Cheese Market in Edam, which is also a nice town to walk around (30 kilometers south).
Art Museums
Frisia Museum in Spanbroek (by Hoorn) for "magic" realism, whatever that is.
Flowers
Holland Flowers Festival is held in late February in Wervershoof.
Westfriese Tuinfair garden festival in Midwoud is held in late May or early June.
Floriade is held every ten years in Haarlemmermeer, close to Amsterdam Schiphol Airport.
Music Festivals
Zomerpop Hoogwoud
Dijkpop Andijk
Taaipop Lutjebroek
Jazz-festival Enkhuizen