Trains from Schiphol Airport
You can use either option below, and they both take about the same amount of time of about 45 minutes to an hour depending on the time of day.
This runs more frequently, about every 10 minutes, but is busier at Centraal Station. You can find it outside the station as you exit in the front to the left.
This runs less frequently but is quieter at Station Bijlmer ArenA, unless there is a football game.
From both tram or bus you will want to get off at Lumièrestraat on the IJburglaan -- we are about 2 minutes walk away (160 meters).
Visitor's entrance
We will provide you with our address upon request. Our apartment is on Sem Presserhof, which is on the inside of the building block between Lumierestraat, IJburglaan and Maria Austriastraat. It can be accessed from any of the entrances up a few steps.
We are on the side closest to Maria Austriastraat overlooking the children's play area. You will need to ring our buzzer and we will let you in and then you take the lift to the first floor. We are the first apartment on the left
Main entrance
If you are delivering something that you need access without steps, it will be easiest to use the main entrance at Maria Austriastraat 698, 1087 JC Amsterdam. You will need to ring the buzzer to be let in by others
Paying for public transport (OV-chipkaart)
The OV-chipkaart (public transport chip card) is the means of payment used for public transportation throughout the Netherlands. See www.ov-chipkaart.nl.
You can buy an OV-chipkaart on the ground level at Schiphol (same level as arrivals) at the NS ticket machines or the ticket office. NS ticket machines and ticket offices only take euro coins and bills, Maestro foreign debit cards, and VISA and MasterCard credit cards (with a surcharge). If you are having problems, go to the ticket office on the main floor.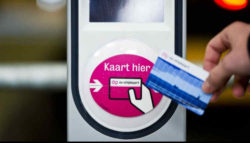 You will need to check in and check out or your ticket will not be valid.To check in and out, hold your OV-chipkaart against the screen on the gate or card reader. The card reader will give a confirmation signal to let you know you are checked-in.
At the end of your journey you check out in the same way.  If you make a transfer you will need to check out and in again on the next mode of transport. If you are transferring from one train to another train of the same company, you only need to check out at the end of your journey.
Single card use or day card: You can buy a disposable single-use or day card if you're not planning on traveling that much. You can buy a day card at NS service desks and ticket machines. You can buy a single use card on the tram (not buses). They charge a one euro surcharge,
Anonymous OV-chipkaart: The anonymous OV-chipkaart is a plastic card you buy for €7.50 at NS service desks, NS ticket machines, supermarkets, newsagents and tourist offices (VVV). The card must be activated and loaded with a minimum of €20. It is worth it if you plan to travel a lot in the Netherlands.Only one person at  time can use the OV-chipkaart. We have an extra card that can be used once you get here, but you will probably need to load it up.
Schiphol Airport Taxis
From the airport, you can catch a taxi, without booking in advance, in front of the airport at the Taxi stand in front of Schiphol. Make sure if you use only taxis parked at the official place located directly outside the terminal, or you wait a long time. The rate for the Taxi stand in front of the airport is metered and very expensive.
Another option is to use one of the following, which cost about €40-45 and can be booked online in advance (listed from lowest price since the last time I checked):

Amsterdam Taxi Services
Amsterdam taxi's are expensive, but usually get you where you need to go and they do not over charge tourists. If you want to order a taxi contact Taxicentrale Amsterdam (TCS) or Taxi Direkt. While you are out in Amsterdam, you can go to one of the many taxi ranks in the city — you can not hail a taxi on the street. If you are at a hotel, cafe or restaurant, ask them to call you a taxi.