Directions
Visitor's entrance
We will provide you with our address upon request. Our apartment is on Sem Presserhof, which is on the inside of the building block between Lumierestraat, IJburglaan and Maria Austriastraat. It can be accessed from any of the entrances up a few steps.
We are on the side closest to Maria Austriastraat overlooking the children's play area. You will need to ring our buzzer and we will let you in and then you take the lift to the first floor. We are the first apartment on the left
Main entrance
If you are delivering something that you need access without steps, it will be easiest to use the main entrance at Maria Austriastraat 698, 1087 JC Amsterdam. You will need to ring the buzzer to be let in by others.
Directions from Amsterdam Schiphol Airport
Street Parking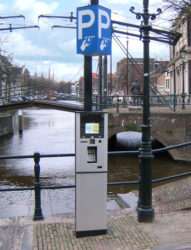 There are two parking meters (parkeerautomaat) within 50 meteres on Maria Austriastraat and Lumierestraat. The digital parking system in Amsterdam means that you need to enter your registration plate details into the parking meter when you pay for parking. You don't need to display a parking receipt in your car, because they scan to see if you have paid based on your registration plate.
Please note: Amsterdam's parking meters do not accept cash or coins. Payment can only be made using a Dutch bank card or any major (international) credit card. For more information, see http://www.iamsterdam.com/en/visiting/plan-your-trip/getting-around/parking.
Garages
Switchpark IJburg: Erich Salomonstraat 372 1087 GZ Amsterdam
Web: www.switchpark.nl/#!location=ijburg


Interparking: Daguerrestraat 53, 1087 BR Amsterdam (on the side of the Albert Heijn)
Web: www.interparking.nl/nl-NL/find-parking/IJburg/
A note about directions:
There is a school of thought which says you should consult a map on these occasions, but to such people I merely say, 'Ha! What if you have no map to consult? What if you have a map but it's of the Dordogne?' My own strategy is to find a car, or the nearest equivalent, which looks as if it knows where it's going and follow it. I rarely end up where I was intending to go, but often I end up somewhere that I needed to be. So what have you to say to that?
--  by Douglas Adams, The Long Dark Tea-Time of the Soul