Drive wheels and tires
The tires on the ZX-1 do not have much tread and seem to slip on leaves, smooth ramps, etc. I'd like to get some with more traction. I've been told the higher profile may make the ZX-1 a bit higher. Since we received the new ZX-1 the clamshell seems just about a millimeter too high for easily rolling into the clamshell (it is okay when chair is not occupied). I think we might be able to adjust the actuator a little bit, but higher profile tires will probably raise it up even more, which we really don't want.
Here are some of our requirements:
Indoor and outdoor use.
Black non-marring for indoor use.
Good on brick roads, grass, and some gravel and sand.
Good in rain and occasional use in small amounts of snow.
As soft of a ride as possible because of spasms/seizures.
As low maintenance and long wearing as possible (4 ply minimum).
Not too much hgher of a profile so it does not change the outside

diameter of the tire too much.
Standard street tires
The wheels and tires that were delivered with the ZX-1 are Pr1mo two piece wheels (split rims) with Pneumatic Primo Powerplay 3.00-4 , 10″ x 3″, 260 x 85 tires, Max 35 PSI. This size of tire is used on scooters, mini ATV's, mini quads, mini pocket bikes, go-karts, etc.  I think that this tire is from Cheng Shin/CST/Primo. I have read that the Kenda 671 TT is similar to this tire. It is considered a street tread pattern.
Tire Sizing
The size of the  tires that were delivered with the ZX-1 are 3.00-4. The first part, 3.00, is both the width of the tire and the height of the sidewall of the tire in inches. The second part, -4, is the rim diameter in inches. So a 3.00-4 tire would fit a 4" diameter rim, be 3" wide and 3" tall on the sidewall. Therefore, the overall height of the tire would be 10" (4" plus 3" plus 3"). Sometimes these tires are listed as 10 x 3 / 260 x 85: This method is becoming obsolete, but you may still have tire marked in this way. The first part is the overall tire height, the second is the tire width. A 260 x 85 tire would be 260mm high and 85mm wide. Converting these dimensions to inches gives us a tire 10" high, 3" wide on a 4" rim. The modern equivalent size would be a 3.00-4.
I wanted to see if any other tire sizes would work to give more selection and wanted to know about 4.10/3.50-4. The 4.10, is the approximate width of the tire when fitted to the recommended wheel. The second, 3.50, is the height of the sidewall, and the third is the rim diameter. So a 4.10/3.50-4 tyre is 4.1" wide, 3.5" tall on the sidewall and fits a 4" rim.
 It looks like it would be too big unless we raise the clamshell, but that would make it difficult to roll the chair into it, because with 24" the clamshell is already at the lowest point. This is what Pat wrote about it in post #187.
4.10 is the width of the tread. 3.50 is the height of the side wall. 4 is the diameter of the hole. So 3.50 + 4 + 3.50 = 11" tire height. The ZX1 comes with 3.00-4 which is 3" wide tread, 3" sidewall and 4 inch hole so its a 10" tall tire or 10 x 3. The distance to the bottom of the axle tube of a chair with 25" wheels and a few degrees of camber is about 11.25". So the bigger tires should fit. They will raise the clamshell about a half inch though. If your ZX1 is setup for 25" wheels the clamshell could be adjusted down a half inch.
Tire types
Copied from: http://enableyourlife.com/buying-guide-tires.asp
Pneumatic Tires - These are the tires that have an inner tube. Inner tubes are sold separately and are generally ordered with the tire. It's best to change both the tire and tube at the same time. Most of these tires are some shade of gray and have various tread patterns. Air tires offer many benefits. The air pressure can be reduced for a softer ride or increased for better performance. These absorb road shocks and bumps better than any wheelchair tire. They can go flat (especially running over a sharp object) and require periodic maintenance of filling the tire with air. These tires offer the largest selection of sizes for manual wheelchairs, power wheelchairs, and mobility scooters.
Foam Filled Tires - These are grey or dark grey pneumatic tires that are filled with foam during the manufacturing process. Foam filled tires are maintenance-free, flat-free, and require no air. They provide a firmer ride compared to air filled tires. These tires require a two piece wheel and may or may not be more difficult to install. In most cases, you will need the bead width of your existing foam filled tire, or if you want to upgrade from a pneumatic air filled tire (and have a two piece rim), you may need the inside bead width of your existing rim. Ideally you want the bead width of foam filled tire to be a little wider than the inside bead of the rim so that when the tire is installed, there is enough compression to keep the tire from spinning on the rim.
Heavy Duty Foam Filled Tires - Similar to the other foam filled tires, but with a specially formulated foam material. They are available in a limited number of sizes and bead measurements. They give a very hard ride, but are made to handle maximum weight, such as with a bariatric power wheelchair. As with standard foam filled tires, a two piece wheel is required and you may need the bead to bead width. Each foam filled tire page will show you how to measure and at the bottom of this page is a video on how to measure bead width. Heavy duty foam filled tires are available in several sizes for power wheelchair and mobility scooters, but sizing is limited.
Urethane Tires - Made from solid urethane, these are solid tires, maintenance free, and air free. These tires wear longer than other tires, have a firm ride, and may or may not be more difficult to install. In some situations, knobby tires have been known to chunk (pieces of solid tire break away). Most of the smaller urethane tires require a two piece wheel and the larger sizes do not. Urethane tires are available in many sizes for manual and electric wheelchairs, and some of the smaller sizes for mobility scooters.
These are *really* pricey at $79.99 each with an estimated shipping cost to the Netherlands of $68.64 ($228.62 in total). Black Kenda 10"x3" (3.00-4, 260x85) foam-filled tire with traction tread pattern that fits many mobility scooters and power chair models. This is the black version of the Gray 3.00-4 (10"x3", 260X85) Foam-Filled Mobility Tire with Traction Tread from Kenda. Price: $79.99 (each) Item: D18-2590.
From Pat in post #169
Those knobby tires are good for traction but are a bit of a bumpy ride around the house. I have these on one of my ZX1s and they're really nice. A little pricey but a nice ride, foam filled so no maintenance and they're black. You can get the same tire in grey for half the price but they're grey.
I had asked if special tools would be needed for non-Heavy Duty Foam Filled Tires, and it appears that it may be needed. I've seen this Heavy Duty Foam Fill Tire Installation Tool and there is a video to show how to use it.
This is what Pat wrote in post #187.
I use an arbor press to get the foam filled tire on but this tool should work: http://www.allegromedical.com/wheelc...l-p558655.html
If we go with pneumatics, these tires look like the would be a good option for indoor/outdoor use. The 10 x 3 in. (3.00-4) Kenda K372 Turf Wheelchair / Scooter Tire in black features a non-marring black formula (Kenda's 61800 Compound) that will not leave marks.The tread pattern features a turf style knobby design for traversing a variety of terrains and provides a comfortable ride Item#: 253720604B0BK Price: US $19.99

This is information from the Kenda about Kenda K372:
| | | | | | | | |
| --- | --- | --- | --- | --- | --- | --- | --- |
| Part No. | Size | ETRTO | Max PSI | Tread Style | Features | Notes | MSRP |
| 253720604B0BK | 10x3/300-4 | 260x85 | 60 | TURF | BK #61800 4 Ply TT | Non-Marking black | $24.00 |
I think these will be too extreme for indoor use. Price: $17.99 Item: R03-1164
From Pat in post #168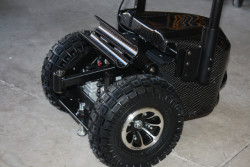 From Pat about scooter tires in post #2 (not sure if 4.10/3.5-4 would work on the ZX-1).
If you want to go up a size you could go with 4.10/3.5-4s which is 4.10 wide, 3.5" sidewall, 4" hole. Actual diameter varies from 11" to 11.5".

3.00-4 tires here: http://www.scootertires4less.com/tires/300-4-tire.html

4.10/3.5-4 here: http://www.scootertires4less.com/tires/410-4-tire.html
For knobby tires, this is the type Triumph has, but hers are grey: Item: D18-2588 Price: $26.99
3.00-4 (10"x3", 260x85) Scooter and Power Chair Inner Tube Item: T03-220 Price: $6.99
Installing Tires
Copied from: http://enableyourlife.com/how-to-install-wheelchair-scooter-tires.asp
Remove the wheel from the wheelchair or scooter - never try to change a tire or tube with the wheel on the chair!

If your tire has a tube, let the air out of the tire. For Schrader valves, press the stem in the middle of the valve. For Presta (French) valves, unscrew the top and press in.

Using the appropriate tool, take off the screws or bolts and save for later re-installation

Lift off the top half of the rim and set aside. If the two halves are stuck together, you can drop the tire and wheel assembly on to your work surface from about a foot up. Be careful to drop the assembly onto the deflated tire only. Both halves should come apart.

If your wheel has bearings and a bearing spacer they may fall out. They can be reinstalled later with a rubber mallet once the tire/tube process is finished.

If your tire has an inner tube, or a urethane inner tube insert, pull it out of the tire and save for later re-installation (if it is still good).

Inspect both halves of the rim for damage and for any debris that may have caused a flat.

If using an inner tube, inflate it a little to give it some shape and insert into the tire. If you are using a urethane insert, just push it into the tire.

With one half of the rim laying flat on your work surface, place the tire on top of one half of the rim and insert the valve through the hole (for inner tube) or make sure it lines up with the slot provided for the valve stem. If you are installing a urethane tire or foam filled tire, the hole will not be used.

Place the top half of the rim onto the assembly and reattach the screws or bolts as before. You want them tight, but do not over-tighten. If you are installing foam filled tires, the bead of the tire will be wider than the bead of the assembled rim, so you need to press the two halves together with some force. For really tough tires, consider a foam filled tire installation tool - see video of this tool in action below. You can also use longer bolts for two or three of the holes to draw the two halves together, allowing you to use the original hardware. Once the original hardware is in, remove the longer bolts and replace with original.

For inner tubes, inflate to the pressure as recommended by the wheelchair or scooter manufacturer or the pressure listed on the side wall of the tire (for inner tube).

Visually inspect the tire and wheel to make sure everything is straight and aligned. If not, you will have to deflate the tube, reposition the tire/tube and re-inflate.

If the bearings came out during the removal process, you can pound them back in using a rubber mallet (only use a rubber mallet, or a block of wood wrapped in a towel. with a hammer - and use as little force as you need). Make sure to insert the bearing spacer first if you have one.

Re-attach the wheel assembly back to the chair.