Overview of Other Options
The following are other options that we considered instead of the RioMobility Firefly. For various reasons, none of them fully fit our requirements or budget.
Purely electric mobility of wheelchair users is full of challenges. Speedy has the answer. The Elektra 3 builds upon the strengths of the Elektra 2; it was developed completely from scratch, however. It is sleeker and lighter than its predecessor without compromising performance. Its new design is only one half of the story. The real difference lies in the technical details. This powerhouse takes on forest paths, meadows, gravel tracks, cobblestone, snowy roads and hills with ease. The Speedy-Elektra 3 offers a very comfortable ride, optimal handling characteristics and convincing motor output.
The Speedy-Elight combines modern design and a very comfortable ride. With its very durable construction, it is extremely nimble and features markedly improved resistance to tipping when combined with a wheelchair, just like all Speedy traction units. Its compact dimensions make the Elight an ideal traction unit – for smaller excursions, on holiday, during stays at a rehabilitation clinic or just for a quick trip to the corner shop.
Weight with battery: 15,30
For Transport without battery: 13,2 Kg
Battery: 36V 6,75 Ah 1,9 Kg
Charger: 26V 1,2Ah
Charging time: 5h
Speed: 6 oder 15 km/h (15 km/h m.Betriebserlaubnis u.Versicherung)
Riding distance approx. (Flat area): 30 km
Motor and wheelsize: 16 inch 36V 250 Watt
max. slope with 75 kg driver weight: 14 %
Freewheel: very less resistance while rolling backwards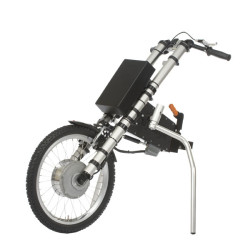 The third wheel electric more autonomy: 40km on one charge, more power, and less weight on the market. Incredibly easy to install, less than 15 seconds, without modifying your folding or rigid frame. There is nothing on the market better and with more features.
• 36V LI-ION - 9 Amp.
• Both junior and senior.
• Battery removable.
• Weight: ± 12,5 kg (incl. battery).
• Disc brake.
• Easy attachable and detachable.
• 36V charger.
• Supportive power adjustable on display and throttle.
• Battery travel distance: 30 km.
• Electric bike system support with on/off switch and freewheel.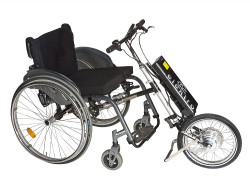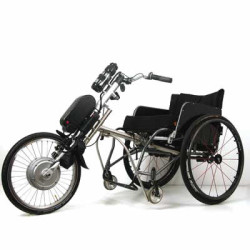 The BATEC ELECTRIC will allow you to gain time comfortably in short daily trips, while enjoying the new mobility it will provide.
In your free time, it will become your trusty ally when you want to access the countryside, go on long journeys, do a spot of tourism or simply enjoy a nice walk. Forest trails, green ways, seaside promenades and hard-to-access villages will no longer be beyond your reach.
And, of course, you can disconnect your Batec whenever you want to enjoy the comfort of your manual wheelchair for certain environments such as shops, restaurants or your own house, thanks to the BATEC EASY-FIX anchor system (Pat. Pend.)