Manual Handbikes
Below are some wheelchair pedal Handbike attachments currently on the market. For various reasons, we are not in the market at this time, but I thought I would include them if anyone is interested.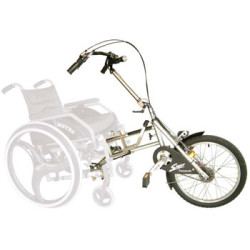 The Speedy-Pedalofit allows wheelchair users to pedal with their feet.  It is both a means of transportation for everyday errands and also an ideal exercise machine.  Movement has a stimulating effect on the cardiovascular system which reduces fluid accumulation in the tissues.
The 7-speed Shimano hub gear has an operating range of 248%.  The Speedy-Pedalofit has sufficiently small gears to be driven even with minimal force. All controls can be mounted either the left or the right side to suit individual requirements.
Much like its siblings, the Speedy-Pedalofit can be greatly adjusted to suit its riders, depdending on their disability, muscle strength and leg mobility.  Pedals are available that fix your feet in place so that you can propel yourself by kicking and pulling.  This means that even riders who have only one useable leg can propel themselves.
Specification
20-spoke wheel
Coaster brake
Folding handlebar
Twist grip on the handle
7-speed Shimano hub gear
Special-chain case
Bike computer with 7 functions
Bell
Adjustable steering damper
Manual lift system
Clutch system
Stands
Double powder-coated frame
Standard Color: Silver
Price: €3,164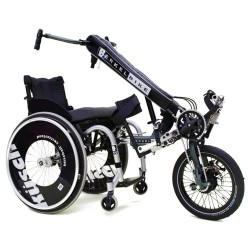 The BerkelBike Connect is user-friendly and easily attachable to your wheelchair similar to any connectible handcycle out there. Therefore, you would not have to make a transfer prior to cycling. You will have your wheelchair with you; the both combine perfectly to give you a daily exercise machine and mode of transportation. When arriving at your destination, you just detach the BerkelBike Connect and do what you have to do. The BerkelBike Connect is suitable for indoor and outdoor use and it can be connected to a cycle trainer which connects you to your laptop or PC. This gives you access to a variety of virtual reality and training software packages.
The BerkelBike Connect helps disabled individuals to regain a large portion of their lost self-confidence. This invention enables a physically challenged individual; even those suffering from spinal cord injuries to increase their mobility much more than what a regular wheelchair can provide. Going for last-minute dinner shopping when you are alone is very much a possibility with this wonderful invention.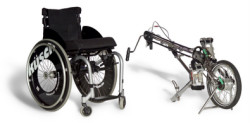 Cycling is an invigorating and healthy exercise and the BerkelBike Connect has made this wholesome exercise possible even for individuals who are physically challenged.. This wonder hybrid of a recumbent bike and a handcycle has now allowed physically challenged individuals much more independence, and has given a great boost to their self confidence and self-esteem. Not having to rely on others for basic transportation is just one of the many benefits. The other health benefits which can be enjoyed by daily use of this hybrid of a recumbent bike and a handcycle is nothing to joke about either; and in fact, they are very amusing
Easy Legs If you are only using the legs to cycle. It's Easy Legs and instead the arm cranks a normal wheel. This model is available in 2 versions: Connect (dockable to own wheelchair) and Pro (sports tricycle). Both versions are equipped with an auxiliary motor.
Recumbents
"the clear market leader in disability biking, and these German engineers seem to love their product and relish the problem of solving the issue of biking with any disability". You can also get a tandem coupling, which would be really cool! Here are examples of the Hase Kettwiesel and Lepus recumbents.

Trikes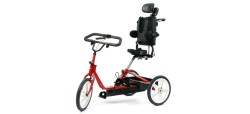 Of course a tricycle is fun, and many of us used it as a stepping stone to the more sophisticated bicycle, but to those with physical disabilities, the adaptive tricycle has therapeutic value as well as recreational value. An adaptive tricycle can be medically necessary for those who do not have the physical ability to walk independently or who sit for long hours in a wheelchair.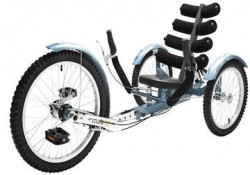 Your age says "relax," but your heart screams for adventure! The Mobo® Shift is the world's first three wheeled cruiser equipped with a reverse function. With such unique features as free-wheel maneuverability, a dual-joystick steering system and an ergonomic reclining-back seat with six angle settings, the Mobo® Shift offers all ages (and most sizes) an adjustable frame, comfortable ride, and a fun-filled experience. Enhance your cardiovascular function while getting the invigorating exercise you require. Mobo® Shift is cooler than average bikes and it meets the highest standards of innovation, fitness and style.