Overview of Requirements
We are looking for an "All-Terrain Third Wheel" for a TiLite ZRA ultralight rigid frame manual wheelchair to be used outside, with and without a ZX-1 Power Add-on. The following is some rather rambling information about what we are looking for and why, along with some of the options that we have found.
Note: This post is from a rather "newbie" perspective, being about 1 year in the ultralight wheelchair world, and is in no way meant as a definitive source of information. I am the partner of someone who had traumatic brain injury and looking for good solutions.  I thought it might help to post some of my ramblings and thinking in writing, because I don't think I'm the only one struggling with these issues, and it just helps me to organise my thoughts.
For quite a while we have been looking for some type of front fork and wheels (casters) to dampen vibrations and smooth out bumps and uneven surfaces. For Rob, this is a medical necessity, because he gets seizures if he is bounced around too much. There have also been times where he has almost done face plants onto pavement, even from fairly minor differences in pavement levels.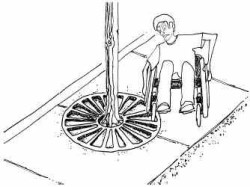 These pavement problems are much more common than many people may be aware, for example: cobblestones, buckled bricks, cracks, drainage grates, grooves in concrete, heaving and settlement due to frost, edges at curb ramp frames, railroad tracks, tree roots, small steps, tree grates, and uneven transitions between streets, gutters, and ramps.
It is also very tiring for a user, or for someone pushing, to always be on the look-out for minor differences in pavement, and a lot of energy is wasted when they are encountered. I've just learned that there is even a name for this in the wheelchair community. Being pitched out of your chair is called an end-over-end or "endo" -- when the front casters become planted in minor 1/4-1/2" (1 -2 cm) surface irregularities, causing the chair to come to an abrupt stop and the user being thrown out.
Just to give you an idea, these are some of the types of paving we encounter:
Front forks and suspension
When we started the process of looking for an ultralight wheelchair I just kind of assumed there were options for front fork suspension.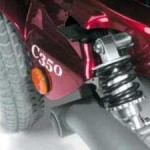 In my naiveté, I started to look into fork suspension systems, much like coil springs used on power chairs, like on Rob's former Permobil C350 Corpus. Because on power chairs, weight is not much of a factor, front suspension often works well because the heavy rear wheels stay in contact with the ground. Obviously, lugging these heavy clunkers around would defeat any benefit of having an ultralight wheelchair, and would be impossible to propel manually if the user was not the Incredible Hulk.
This may be a bit of a digression, but while I was looking for suspension options for manual wheelchairs, that lead me to looking into front suspension on high end mountain bike forks, because much in the ultralight wheelchair world is very similar.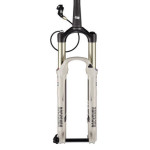 If it were a perfect world, I could envisage that something like an adjustable air shock with a remote actuator would be perfect for a wheelchair. With some sort of unilateral remote to handle both forks at once, the user could change how soft/hard they want the dampening to be by choosing the amount of air inside the shocks for the appropriate conditions, i.e., no dampening inside, but a lot while on cobblestones.
Unfortunately, the cost to market in the wheelchair world is very high, especially with FDA approval for medical devices, and the limited pocket books by many users make it a much smaller market. The MSRP for a single RockShox SID XX World Cup fork by SRAM (as shown) is $1140 - $1220 (€1021 - €1093), so I don't think I will be holding my breath on these. Still, knowing that this technology exists may mean that a scaled down dimension could be developed in the future specifically for ultralight wheelchair users (hint, hint)
[Note: Since writing this, I was happily educated about why this concept would not work easily on a wheelchair. Basically, it comes down to the axles/camber tube and the difference in torsion/twisting with a wheelchair. See this post if you are interested #47]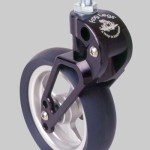 Finally we thought that Frog Legs Shock Absorbing caster forks (suspension forks) might be the answer, because they are suppose to help a lot with vibration dampening. Unfortunately, we could not get this configuration working with them, because they were interfering with the stability of the chair. We went through 4 CAD drawings because we were told on the CAD drawing "Chair does not meet TiLite's minimum stability requirements, may result in forward tippy chair".  We were not given any information about what would make the chair less forward tippy and went through a process of elimination until we removed the Froglegs forks.
I  have also since learned that they really do not help on bumpy uneven surfaces or when hitting small differences in pavement heights. With brick roads, that was our primary use for them. Although good for dampening, they are not adjustable for dampening and would have required configuring the dimensions of the front of the chair quite differently, which would not have been good if we decided not to use the suspension forks. We also think they would make transfers more difficult, because the front of the chair will dampen down too much with  weight on it.
Front wheels (casters)
Some of the challenges when configuring the chair have been to find the right front wheels (casters). You can't just change casters out as needed, because front casters size and placement drastically affect the center of mass (gravity) and geometry on a manual wheelchair. To give a bit of an overview, here is the conumdrum when choosing front casters.
Small front casters on wheelchairs are primarily designed for indoor use. Generally, the smaller the front caster diameter, the easier it is to manoeuvre, i.e., swivel, and the more responsive the wheelchair will be when turning. The larger the caster is, the easier the wheelchair will be propelled over obstacles and rough ground. When encountering a bump on a down slope the size of the front casters is important. A wheelchair with small front caster is more likely to get caught on the bump and cause the person to fall forward out of the wheelchair.
Caster width also affects how a caster will roll over rough terrain. Generally, the wider and more rounded the caster tire, the easier rough terrain can be traveled over. The harder the caster tire, the easier the wheelchair will roll and turn corners. The softer the caster tire the better vibration the dampening, but the harder it will be to propel and turn the wheelchair.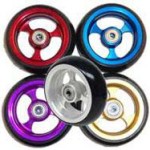 We think we have solved some of these issues by going with a medium diameter, wide, rounded soft caster (Frog Legs 5"x1.5" aluminium soft roll caster), which will help with vibration dampening and small bumps, like the differences in our old floor boards. Unfortunately, that still does not solve the problem of dealing with rougher terrain outside, because these casters are still quite small. For that, we think that only a larger front wheel will help...
What are we looking for (our requirements)?
So now we are looking into options for an "All-Terrain Third Wheel" that will more or less make the wheelchair an all-terrain chair for outdoor use. The concept of a third wheel is to lift the chair up, preventing the small caster wheels from touching the ground, while the larger front wheel increases stability and off-road capability. It makes the best use of momentum by not stopping every time a bump is hit, and help to dampen the jolts on uneven surfaces or when hitting small differences in pavement heights.
Able to handle many surfaces, like cobblestones, bricks, grass, curbs, dirt trails, snow and sand.
Able to attach onto the front frame or front rigidizer bar or individual aluminium flip-up footrests (as shown in photo).
Able to be used with a Power Add-on (probably the ZX1). Because of the ZX-1 Power Add-on, which mounts on the camber, we do not want a camber mount.
Small and light weight and easily transportable.
Easy to attach / remove (preferably with one hand).
Large sized 12 1/2" treaded front wheel.
Able to transfer in/out of without removing (probably handlebars will be in the way).
No heavy mounting bracket on frame when it is not attached.
Can be checked with the wheelchair on flights so that it is not considered another piece of mobility equipment (with the wheelchair and power add-on we will already have the 2 allowed).
Not super expensive (around €500).
Overview of Options
Below is an overview of options that we have found, much of which is copied from web sites.  Please note that this is my rough research, and not all information may be accurate or up-to-date. I'll try to update it as we learn more or receive more information.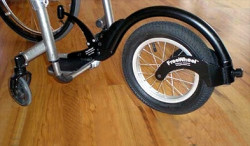 The FreeWheel is a durable, lightweight wheelchair attachment that quickly and securely clamps to the solid footrest of a rigid-frame manual chair. Once attached, the FreeWheel lifts the front casters off the ground turning the wheelchair into a 3-wheel, all-terrain chair.
It can go over grass, curbs, down dirt trails, on cobblestones, on snow and in sand. It makes it easier to push yourself, but it also makes it easier for anyone who is pushing also. The FreeWheel can also be used with power assist wheels and power add-ons.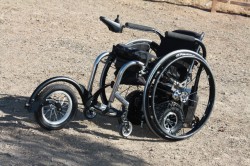 The FreeWheel comes with all that is needed to set it up on a chair. The initial installation takes approximately 15 minutes, and after that the FreeWheel clamps on very quickly.
When not in use, the FreeWheel can be stored on a "perch" on the back of the chair. In the event that you get a different chair, you can use the supplied parts to fit another chair also.
Material: aircraft quality aluminum
Front wheel: 12-1/2" bicycle tire
Type of attachment: vice like to footrest tube and/or footplate. Each FreeWheel comes with an easy-to-read Set-Up guide which shows which shim combination you need to fit to your specific footrest type.
Adjustability: Has an adjustable detent to mechanically resist the rotation of the wheel.
Maximum user weight: The FreeWheel is set to accommodate the same weight restrictions of the individual's chair. Anyone weighing over 280 lbs. may need to speak with the manufacturer if they encounter any set-up issues.
Weight: 5 lbs.
Dimensions: 24" length when FreeWheel in Tail-Dragger (position when you are clamping it on to your chair). 1" clamp width on footrest. 18" in length when in working position.
Colours: Black (anodized) or Grey
Included accessories: Storage Perch on back of chair crossbar with 3 different perch posts depending on the footrest set-up (included in package)
Optional accessories: FreeWheel Rack to carry up to 25 lbs. Rack size is 20"x 15". Lightweight, sturdy, black aluminum frame, approx. 1 lb. Price $129.00 plus $20.00 shipping (within US).
Restrictions: If the height of the footrest is over 4-7/8? it may require a custom frame FreeWheel for an additional charge of $50.00. If the angle of the footrest is more than 12% the FreeWheel may not work. For some footrests, extra modifications may be needed.
Price: $599 (was $499) plus $30 shipping (within the U.S). Available  on-line and through U.S. Dealers or International Dealers and In Canada.
Here are some video links:
https://www.youtube.com/watch?v=xyUDqoPO5Eo
FreeWheel Update August 2014
When we started looking, the FreeWheel was looking like the most viable option to meet most of our requirements.The only problem we had was finding a way to connect it with individual aluminium flip-up footrests, which are needed for foot propulsion due to hemiparesis and not being able to propel with two hands.
Later, after asking the people at FreeWheel about a new adapter that was in the works, we found that this was not going to be possible. After much back-and-forth, we learned that the adapter was only for folding wheelchairs, and would not work with a rigid chair. We also investigated modifying the adapter for individual aluminium flip-up footrests, but don't see anyway to do this that will also make it easily removable and strong enough.
It was asked why we did not get the FreeWheel Adaptor for Folding Wheelchairs which is now out. My response was that the front seat height is 18.5", which is higher than the side tubing height maximum of a folding chair at 16", so the hitch is not long enough. Also the adaptor clamp diameter is too narrow at 1-1/8", because the ZRA has 1.25" tubing.
Later, nonoise on the CareCure forum very helpfully suggested in this thread Modified All-Terrain Third Wheel "DU rigidizer bar is close to parallel and might work, but it's connection to the frame is probably not strong enough for the Freewheel.". I think he may have a good idea there, as I responded back "I had not even considered that. It is only on a 7 degree angle. I had sent the CAD drawing to Pat, but perhaps he did not consider that also. We are pretty far invested in what we are doing now, but I will keep this on the back burner in case that does not work."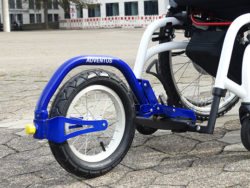 Adventus is an accessory which will make operati ng your wheelchair on rough ground signifi cantly easier, for example in the garden, on the beach or on paths. Even on normal surfaces you will be much more comfortable because Adventus gives a soft er ride.
Weight: 2,4 kg
Dimensions: 12½ X 2¼
Height: ca. 350 mm from the floor
Length: ca. 480 mm in front of footplate
Fits to footplates: ca. 60 - 120 mm road clearance with standard front fork , ca. 60 - 150 mm road clearance with extended front fork
Needed space for mounting: 36 mm (space between feet).
Price: unknown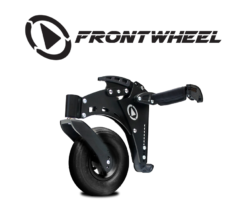 Developing solutions to improve your way of living is what we thrive on everyday which is why we have designed the FrontWheel. It enables you to travel across grass, cobbles, mud, gravel and other uneven ground easily by keeping your front castor wheels off the floor at all times when you move in any direction, including backwards.
200x50 pneumatic tyre with anti-flutter fork
Quick release handles to activate and release
Robust three point connection to frame
Retro fit to any TIGA/TIGA fx via mounting clamps
Price: unknown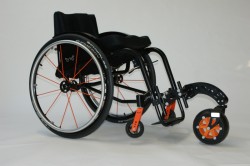 Smart Wheel is a removable cross wheel which ensures that the front wheels of your wheelchair come from the floor 4 to 5 cm, so the wheelbase lengthens your wheelchair. As a result, you drive much lighter and obstacles such as curbs, forest trails, grass, etc. are much easier to overcome.
Smart Wheel is easy to disconnect, but not from the wheelchair unless you turn the front wheels on a threshold.
Installation is done by means of couplers, which are placed with terminal blocks onto your wheelchair.
For straight front frames, the standard couplers are included. For non-standard frames, other than diameter 30/32 mm frame tube, are optionally available.
The frame color is black, with other colors on request. The rims are available in multiple colors or optional carbon.
Due to the permanent 90 degree head angle during cornering, this cross wheel in dynamics and rigidity by far the best solution.
Price: €695 00 (including 6% VAT)
This is another product by the same company that I think is interesting for it's design, the TNS Crossvoorzetwiel. It is specifically made for their TNS RSX wheelchair. What I like is the curved tube over the wheel that keeps it vertical for caster pivot bearing, but also still allows for a negative rake so that it trails. The RSX appears to have a tubing diameter similar to the TiLite ZRA of 1.25", so maybe there is a chance that we could use something like this. I have no idea about what the price is, and there is not much information on their website.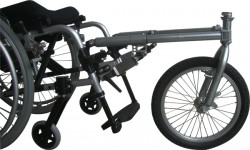 The Lomo 360 is composed of a tubular frame with and all terrain front wheel. When attached to the wheelchair it increases the persons ability to cross obstacles and roll without effort. Rocks, cobble-stones, pathways, uneven terrain, snow, etc.
The frame is adjustable in length and width allowing it to be attached to the majority of wheelchairs. Attached directly by clamps designed not to damage the wheelchairs frame, this third wheel provides great stability. The Lomo 360 allows the front casters of the chair to be raised of the ground automatically with minimal effort. It can be attached to fixed frame and folding frame wheelchairs.
The addition of the steering/handle bar allows the use of brakes and gives the person greater control and security. The brake system is the standard V-brake with the option of a disc brake.
Material: Chromolybdene steel (fork and frame)
Adjustability: Frame adjustable in length and width
Front fork : Tubular for optimal strength
Front wheel : 16"
Attachment: 2 front frame clamps with turning handles, small (3,54") or big (4,33")
Maximum weight on the unit: 176 lbs
Maximum user weight: 264 lbs
Weight: ± 13,5 lbs
Dimension: 22" (length) / from 14" to 23" (width) / 18" (high)
Colours: Black or Grey
Optional accessories: Handle bar with V-brake (adjustable in height) - Disc brake in option, Footrest, Transport bag, Multiposition binding, Position marker, Basket, Luggage carrier
Price: $1,200 / $1,600.00 with handlebars
Material: stainless steel
Front wheel : 14"
Attachment: Connection to the front frame
Weight: ± 6 kg.
Optional accessories: Travel Bag
Price: €880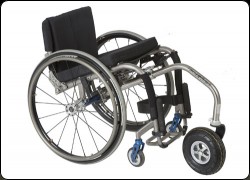 The Connect Offroad is the ideal solution for the wheelchair when you go off-road. Also for bad condition roads or in the winter snow.
Material: stainless steel
Front wheel: 10" ???
Attachment: Connection is done with a coupling to the camber tube on a fixed frame chair.  It is also available for a foldable wheelchair with a removable adapter.
Weight: ± 5 kg.
Price: €470.00 plus €295.00 for adapter under wheelchair and €210.00 to make the adapter detachable for a fixed frame.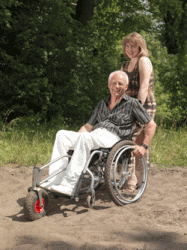 The Speedy Buggy is an ideal aid to facilitate the wheelchair driving on loose or uneven surfaces. It is suitable both as an aid with an attendant as well as for ease of driving of the wheelchair by the driver himself. When driving on uneven surfaces, such as cobblestones or lawn, vibrations are reduced drastically and makes it easier to roll much. The reason is that here the small front wheels are lifted wheelchair.
In loose terrain such as sand beach, by the wide surface of the tires from sinking into the buggy wheel is prevented almost completely. Especially in combination with off-road wheelchair or twin wheels of Speedy Buggy is therefore especially on loose sand as an ideal helper. The Speedy-buggy may be driven safely in sea water, without damaging it.
Price: €463 plus €487 for the adapter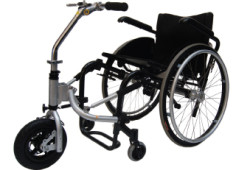 Attachable Front Caster with optional steering column and handbrake.
Navigate sidewalks easily and safely, even turn in place
Improved stability against tipping forward or backwards
Optional hand break makes stopping and going downhill a breeze
Fits over 95% of adult and pediatric manual wheelchairs
Attaches directly to your wheelchair's frame for added stability
With optional hand brake and steering column weighs 16 lbs./7 kg
Without hand brake and steering column weighs 12 lbs./5 kg
Disc Brake
Price: between € 550 and € 650
Small and handy for travelling  (flights, train...)
Ideal in pedestrian zone
with cobble-stone pavement etc.
On meadows, field-path and on the beach
No hot hands any more while driving
downhill, because  of V-brake
Optimal straight run on the street
with side fall
While shopping to load or
hang bags on it
For cycling downstairs
Huge profit of time and safety
Price: $???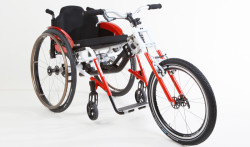 The Freeway makes your wheelchair an all-terrain vehicle. In just a few steps the amazingly light Freeway is coupled to your wheelchair, and off you go: whether you're on forest paths, cobblestones, snow or sand, the Freeway makes travelling easy! The wheelchair is still pushed forward as usual via the handrims, the caster wheels are slightly above the ground. And everyone who has tried it before can confirm: a 20'' wheel handles obstacles significantly more easily than a 4'', 5'' or 6'' wheel. The Freeway thus provides an entirely new freedom of movement!
Even on hilly routes the Freeway has tremendous benefits. Uphill it is an enormous relief for the accompanying person pushing the wheelchair for support, downhill the vehicle moves by itself. The user steers and brakes using the Freeway.The steering damper keeps the device on a straight track, even when there is no hand on the handle bar.
Curves can easily be managed via the steering system, and not as normally through braking and pushing motions on the handrims, which always lead to a loss of momentum. Those who already have a PRO ACTIV adaptive bike can couple the Freeway to the wheelchair via the frame adapter already in place.
Material: aluminium alloys
Adjustability: Frame adjustable in length and width
Front fork : Tubular for optimal strength
Front wheel : 20″
Attachment:  Frame adapter: mount to axle or cross tube (rigid frame) under the seat or to folding mechanism (folding frame). Front adapter: mount to front frame tubes. Adjustable for various tube diameters
Maximum user weight: 120 kg
Weight: 2.7 kg plus adapter weight 2.8 kg for rigid-frame wheelchairs; 3.6 kg for folding-frame wheelchairs or 3.6 kg for front adapter.
Dimension: 93 x 62 x 50.8 cm
Colours: Various powder coatings
Brakes: Shimano V-Brake
Optional accessories: 3 Handle bar versions
Price: €399.80  plus €359.00 for the adapter