Leslie's River Bistro Caesar Salad
2 Generous Servings
4 anchovy fillets, minced (or 1 ½ teaspoons anchovy paste, this is what I use).
1 large garlic clove, pressed
1 teaspoon Dijon mustard
1 teaspoon red wine vinegar
¼ teaspoon hot pepper sauce (such as Tabasco)
¼ cup olive oil
1 head romaine lettuce, torn into bite-size pieces (about 8 cups)
1 cup croutons
½ cup freshly grated Parmesan cheese (about 1 ½ ounces)
Whisk anchovy, garlic, mustard, vinegar and hot pepper sauce in large bowl. Gradually add ¼ cup olive oil and whisk until thick. Season dressing to taste with salt and pepper. Add lettuce and toss. Add croutons and cheese and toss again. Divide salad between plates and serve.
Note: Can also add a bit of lemon juice and Worcestershire sauce
Seasoned Croutons
5 slices bread
2 tbsp. butter
2 tbsp. olive oil
1 tsp. minced garlic
1/4 c. freshly grated Parmesan cheese
1/2 tsp. dried oregano, crumbled
1/2 tsp. dried thyme, crumbled
Remove crusts from bread. Cut bread in cubes. Melt butter with olive oil in skillet over medium heat. Add garlic and saute 1 minute. Remove pan from heat; add bread cubes, stirring until well-coated with butter mixture. Cool slightly.
Combine Parmesan, oregano and thyme in heavy plastic or paper bag. Add bread cubes; toss to coat evenly with cheese mixture. Spread bread cubes in even layer on ungreased jelly roll pan. Bake at 300 degrees for 35 to 40 minutes or until lightly browned and crisp, stirring occasionally. Cool, then place in freezer storage bag; freeze until needed. Makes about 2 cups.
Anneloes' Tartiflette
For the whole cheese [half cheese, half recipe]
Cook 1 kg of potatoes with peal +/- 15 minutes.
Chop 2 onions
When potatoes are cooked, dice them.
Put onions and potatoes in pan and "brown" them a bit.
Add pepper and salt, and if you have [not necessary] a table spoon of crème fraîche.
When done put some white wine with it and let it cook for +/- 5 minutes – until it is not to wet anymore.
Pour the onions-potatoes mix in an oven-bowl – don't forget to butter it.
Grate the white stuff of the cheese with a knife – don't forget the side.
Cut the cheese in strips about 1 cm wide and cover the onions-potatoes mix with it.
Cover the bowl and put it in a warm oven [180-200°C] and wait 25-30 minutes.
Now you can eat it but watch out, it is hot…
Ellyn's Easy Potato Salad (vegetarian)
This is a good recipe to make in large quantities for big gatherings. Serves about 6-8.
2 750 gr. packages of already prepared diced potato's
1-2 cups mayonnaise
1 medium onion, diced
1 stalk celery, diced
1 carrot, diced
1/2 cup pickles, chopped (I use already prepared "augurken blokjes")
2 eggs, hard boiled and diced (optional)
2 garlic cloves, chopped
1 tablespoon parsley, chopped
1 tablespoon chives, chopped
1 tablespoon Sambal or any good hot pepper sauce (optional)
Salt and pepper to taste
Additional parsley, pickles, eggs and paprika powder for garnishing
Hard boil the eggs.
Using a fork, make some holes in the packaging of the diced potato's and
microwave them for about 13 minutes at 800 watts.
When the potato's are done and still warm (not too hot), combine them with the mayonnaise, vegetables and eggs and stir well.
Let it cool and refrigerate overnight.
Garnish with parsley, pickles, eggs and paprika powder.
Witlof (Endive)
Everything here was copied from http://frenchfood.about.com/library/blendiverecipes.htm
Endives à la flamande
Endives flemish style served with butter and egg. This is a popular entrée in northern France. It is sometimes accompanied by aspargus and is called chicons en asperge.
8 Belgian endives
juice of 2 lemons
1 teaspoon sugar
salt/pepper
4 eggs, hard boiled and peeled
6 ounces butter
handful of parsley,chopped
Preheat oven to 350°
1. Put cleaned endives into ovenproof dish with a lid.
2. Mix the lemon juice, sugar, salt and pepper together and pour over the endives. Cover and bake for 1 hour.
3. Just before serving melt the butter, stir in the parsley and pour into a sauceboat. Cut the eggs in half and put them in a bowl.
Let everyone take an egg and crush it on their plate. Mix it with some of the melted butter. Add the endives on top and eat with the egg sauce.
Endives au Jambon
Belgian Endives wrapped in ham, baked in a creamy cheese sauce.
4 Endives
4 slices cooked ham, thinly sliced
1/4 cup butter
5 Tablespoons of flour
2 cups whole milk
scant 1 cup of grated Gruyère
salt and freshly ground pepper
1. Remove outer leaves of the endives and trim ends. Blanch in boiling salted water for 15 minutes. Drain well.
2. Wrap a slice of ham around each endive. Preheat oven to 390°.
3. Grease a baking dish with 2 teaspoons of the butter. Arrange the endives in it.
4. Make the sauce: In a small saucepan, lightly brown the flour and the remaining butter. Add the milk, stirring continously. Simmer for 5 minutes.
5. Fold in 1/3 of the cheese and season with the salt and pepper.
6. Pour the sauce over the endives and sprinkle the remaining cheese on top.
7. Bake for 10 minutes or until the cheese is golden brown.
Serve immediatley, accompanied by a Sancerre.
Endives à la crème
4-6 endives, out leaves removed
4 Tablespoons of butter
juice of 1 lemon
2 Tablespoons crème fraîche
handful of parsley, chopped
salt
1. Melt the butter in a saucepan. Add the endives, salt and lemon juice.
2. Cover and cook gently for 15 minutes, or until the endives are tender. Shake the pan from time to time.
3. Add the crème fraîche, stir gently.
4. Arrange the endives on a warmed serving dish. Pour the cream sauce over and sprinkle with the parsley.
Apple Stuffed Butternut Squash
1 butternut squash
1  tart apple, peeled and chopped
1 1/2  tablespoons butter, melted (optional)
1 tablespoon brown sugar (or maple syrup)
1 tablespoon lemon juice (about 1/4 of a lemon)
1/4 teaspoon "speculaas" or pumpkin pie spice (can substitute 1/4 teaspoon cinnamon with a bit of 1/8 teaspoon nutmeg and 1/8 teaspoon cloves)
3-4 tablesspoons water
Cut the top off the butternut squash so that you have only the round part. If you want to use the whole squash, cut butternut squash in half, lengthwise. Remove and discard seeds and fiber.
In a shallow microwave-safe dish, place squash cut-side down and put about 3-4 tablesspoons of water in the bottom of dish. Microwave covered on high power 5-7 minutes until almost tender. If baking, preheat oven to 175° C /350° F and bake for 1/2 an hour.
When the squash is done, remove the water.
Combine melted butter, brown sugar, lemon juice and spice in a mixing bowl and mix. Add apple chunks.
Place the squash in a butter dish, the open side up, and fill the center with the apple mixture. If preparing in advance, place the dish in the referigerator overnight.
If baking, preheat oven to 175° C /350° and bake for another 1/2 hour to 40 minutes until the squash and apples are soft and browning. Or microwave covered on high power for about 5-7 minutes. Let stand about 5 minutes before serving so that you can cut it at the table.
Ruth's Golden Potato Surprise
4 white potatoes, peeled and chopped
salt to taste
2 medium red onions, chopped
2 T. butter
2 T. flour
½ tsp. thyme
½ tsp. salt
½ tsp. pepper
1 cup half & half cream (or milk)
1 tsp. Dijon mustard
½ cup mayonnaise
4 slices bacon, fried crisp and crumbled (optional)
Cook potatoes in salted water to cover until tender; drain.
Place in 2-quart baking dish.
Saute onions in butter. Stir in flour, thyme, salt, and pepper.
Add half & half gradually. Cook until thickened, stirring constantly. Cool slightly. Stir in mustard and mayonnaise and spoon over potatoes.
Bake at 350 for 30 minutes. Top with bacon if using.
Makes 4 generous servings.
Ruth's Mashed Potato Casserole
Potatoes
milk or cream
salt and pepper
cream cheese
finely chopped onion
butter
This is a good make-ahead dish. The quantities depend on how many potatoes you cook. For a fairly large amount I would use at least 1 large (8 oz.) package of cream cheese, 1 stick of butter, and about ½ (or more) of a large onion finely chopped.
Prepare as you would normally fix mashed potatoes. While potatoes are still hot, add cream cheese, butter, and onion and mix well. Put in large casserole and garnish with paprika.
May be made the day before and reheated in oven or microwave. (Cover with foil or plastic wrap)
Ruth's Broccoli Casserole
½ kilograms broccoli (or 20 oz. pkg. frozen
½ cup mayonnaise
1 egg
1 cup shredded Cheddar cheese
1 - 10 oz. can cream of mushroom soup
dry bread crumbs
melted butter
Cook broccoli and drain. Place in greased baking dish.
Combine mayonnaise, egg, cheese, and soup in saucepan.
Cook until cheese melts, stirring to mix well. Spoon over broccoli. Top with bread crumbs and drizzle with butter.
Bake at 325 for 35-40 minutes until bubbly and light brown.
Makes 6 servings
4 medium acorn or butternut squash - cooked, removed from skins and mashed.
½ cup firmly packed brown sugar
½ teaspoon salt
1 Tablespoon cornstarch
1 cup orange juice
1/4 cup butter
Mix sugar, salt and cornstarch in heavy pan. Add orange juice and butter. Cook, stirring constantly, until thickened and clear. Stir into squash.
Place in 2 quart casserole and bake at 350 about 30 minutes.
Classic Green Bean Casserole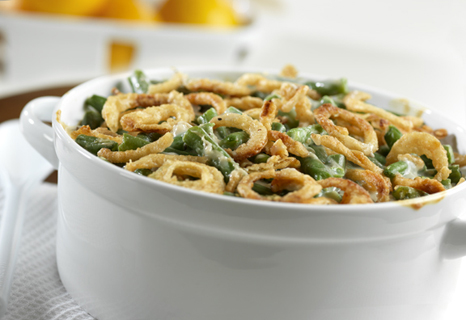 It's the dish everyone's expecting on the holidays, but it's so easy to make, you can serve it any day. What makes our green bean casserole so good?  A secret ingredient - cream of mushroom soup.
1 can (10 3/4 ounces) Campbell's® Condensed Cream of Mushroom Soup  (Regular or 98% Fat Free)
1/2 cup milk
1 teaspoon soy sauce
Dash ground black pepper
4 cups cooked cut green beans
1 1/3 cups French's® French Fried Onions
Stir the soup, milk, soy sauce, black pepper, beans and 2/3 cup onions in a 1 1/2-quart casserole.
Bake at 350°F. for 25 minutes or until the bean mixture is hot and bubbling.  Stir the bean mixture.  Sprinkle with the remaining onions.
Bake for 5 minutes or until the onions are golden brown.
For Broccoli Casserole, substitute 4 cups cooked broccoli flowerets for the green beans.
For cheese lovers, stir in 1/2 cup shredded Cheddar cheese with soup. Omit the soy sauce. Sprinkle with an additional 1/4 cup Cheddar cheese when adding the remaining onions.
To add a festive touch, stir in 1/4 cup chopped red pepper with the soup.
To add crunch, add 1/4 cup toasted sliced almonds to the onion topping.
For bacon lovers, add 2 slices bacon, cooked and crumbled, to the bean mixture.
For Golden Green Bean Cassrole, substitute Campbell's® Condensed Golden Mushroom Soup for the Cream of Mushroom Soup. Omit the soy sauce. Stir in 1/4 cup chopped red pepper with the green beans.
RECIPE TIPS
Tip: Use 1 bag (16 to 20 ounces) frozen green beans, 2 packages (9 ounces each) frozen green beans, 2 cans (about 16 ounces each) green beans or about 1 1/2 pounds fresh green beans for this recipe.
4 cups fresh cranberries
1 1/2 cups water
5 whole cloves
5 whole allspice berries
3 cinnamon sticks
2 cups white sugar
Directions
Place fresh cranberries and water in a medium saucepan over medium heat.

Wrap cloves, allspice berries and cinnamon sticks in a spice bag. Place in the water with cranberries.

Cook until cranberries begin to burst, about 10 minutes.

Stir in sugar and reduce heat to low. Continue cooking 5 minutes, or until sugar has dissolved. Remove from heat and allow to cool. Discard spice bag. Chill in the refrigerator 8 hours, or overnight, before serving.
Wild Rice Stuffing Bake
Ingredients
1/2 cup chopped celery
1/3 cup chopped onion
3 tablespoons butter or margarine
1 egg
1 (10.75 ounce) can condensed cream of chicken or mushroom  soup, undiluted
1/2 cup chicken or vegetable broth
1 tablespoon minced fresh parsley
1/2 teaspoon poultry seasoning
1/4 teaspoon salt
1/8 teaspoon pepper
3 cups day-old bread cubes
1 1/2 cups cooked wild rice
Directions
In a skillet, saute celery and onion in butter until tender. Combine egg, soup, broth, parsley, poultry seasoning, salt and pepper. Add celery mixture, bread cubes and rice; mix well. Spoon into a greased 1-1/2-qt. baking dish. Cover and bake at 350 degrees F for 20 minutes. Uncover; bake 10-15 minutes longer or until set.