Cheese and Chicken Quesadillas
I usually make 2 batches of this, one with chicken and cheese, and the other with only cheese for the vegetarians.
500 grams (2 cups) shredded cooked rotisserie chicken
3/4 teaspoon salt
1/2 teaspoon black pepper
4-6 (1 bunch) green onions chopped (use mostly the white parts -- use green parts for chili garnish)
3-4 large garlic cloves, thinly sliced
300 grams (2 packages) grated cheese (oud)
16 medium flour tortillas
2-3 tablespoons vegetable oil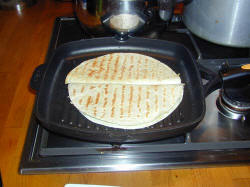 Sprinkle chicken with 1/2 teaspoon salt and 1/4 teaspoon pepper.
Mix salt, pepper, green onions, garlic and chives in a bowl. Add grated cheese to mixture.
Put 1 tortilla on a cutting board and spread a handful of cheese mixture and chicken (if using) over half of the tortilla.
Fold other half over to form a half-moon, pressing firmly on seam. Assemble the rest of the quesadillas in same manner.
Heat lightly oiled ridged grill pan over high heat until it begins to smoke, then reduce heat to moderate.
Grill quesadillas, turning over once, until cheese is melted and golden brown grill marks appear, about 2 minutes each side.
Transfer to a cooling rack while you cook the next batch.
Cut the cooled quesadillas into 4 pie shaped parts and place in a pie pan, 1 for cheese, 1 for cheese and chicken.
I make this 1-2 days in advance and put in the microwave for 1 minute to warm
Guacamole
1 teaspoon each of ground cumin and paprika powder (or a packet of Guacamole herbs)
2 tablespoons fresh Cilantro (corriander) chopped
1 medium sweet white onion minced
1/2 a lime for juice (can also use a few drops of concentrated lemon juice)
3-4 tablespoons mayonnaise
4 ripe avocados, peeled, seeded
1-2 medium Roma tomato or 4-6 cherry tomato diced
Hot pepper sauce, sea salt, white pepper to taste
Tortilla chips
Mix herbs, onion, garlic and lime juice with mayonnaise. I usually make this in advance.
Cut avocado in large chunks and mash coarsely in large bowl with a fork.
Add tomato and remaining ingredients and blend gently, leaving some chunks.
Taste and adjust seasoning with more pepper sauce, salt and pepper.
Salsa
8-12 medium roma tomatoes quartered or 2 cans diced tomatoes
1 can tomato puree
1 onion, chopped
3-4 cloves garlic
1 cup (1/2 bunch) fresh Cilantro (corriander) chopped
1-2 tablespoons corn starch (Allesbinder)
2 tablespoon olive oil
1/2 a lime for juice (can also use a few drops of concentrated lemon juice)
jalapeño peppers chopped (can be put on the side for garnish)
Combine tomatoes, onions and garlic in medium saucepan; bring to boil over medium-high heat.
Reduce heat to medium-low; simmer until mixture is reduced, stirring occasionally, about 20 minutes.
If the salsa is too thin, add corn starch (Allesbinder) and stir well.
Let cool and transfer 1/2 of mixture to blender and add the cilantro and olive oil. Puree until smooth. Mix this with the other half of the mixture. If you want a fine salsa, puree the entire mixture.
Season with salt and pepper and add lime juice.
Can be made in advance and refrigerated, covered for 2-3 days.
Hummus
250 grams (1/2 a package) dry chick peas (garbanzo beans) or 2 large cans
1 cup of water saved from cooking chick peas
4 cloves garlic
4 tablespoons lemon juice
2 tablespoons tahini or (2 tablespoons sesame seeds with 1/2 teaspoon sesame oil or 2 tablespoons sesame oil)
4 tablespoons olive oil
2 green onions
2 tablespoons fresh corriander (optional)
2 tablespoons fresh parsley chopped
Salt and black pepper to taste
Pita bread (2 packages) cut into wedges
Rinse the chick peas under a running tap. Soak in water overnight. Rinse well after soaking.
Cook chick peas for 1-2 hours until soft.
Rinse and cool the chick peas and then pour into blender
Add lemon juice, tahini, garlic, corriander (cilantro) and salt in blender.
Add water as needed to blend. Blend until creamy and well mixed.
Transfer the mixture to a serving bowl and refrigerate overnight.
Garnish with chopped parsley and serve with pita bread
Hummus with Sesame Oil
Hummus with sesame oil is regular hummus without the use of tahini. Some people find tahini to be too much of a strong flavor. Sesame oil id the perfect substitute for hummus without tahini.
1 can chickpeas or garbanzo beans, drained, rinsed and towel dried
2 tablespoons lemon juice
2 tablespoons olive oil
2 cloves garlic, crushed
1/2 teaspoon cumin
1/2 teaspoon salt
1/4 teaspoon black pepper
3 tablespoons sesame oil
2-3 tablespoons warm water
In a food processor, blend chickpeas lemon juice and olive oil.
Add garlic and spices, then sesame oil and water and blend to a smooth paste.
Add 1-2 tablespoons of water if mixture is too dry.
Serve warm or at room temperature with fresh veggies or pita bread for dipping.
Salmon Dip
1 large 400 gram can red salmon (bone and skin removed)
2 150 gram packages cream cheese
1 tablespoon lemon juice
2 green onions, minced
2 tablespoons chives, minced
1 teaspoon liquid smoke or worcestershire sauce
Bring cream cheese to room temperature and blend with salmon.
Mash together and add the other ingredients. Refrigerate overnight.
Sprinkle with chopped parsley and serve with crackers and french bread.
Easy Sambal Cheese Spread (Smeerkaas)
I'm a cheese fanatic. Where we live in the Netherlands they make many good cheeses and we also have a huge selection from other countries. Sometimes I like spreadable cheese, but as with most processed "food", it is loaded with salt and a lot of extra chemicals that I really don't care for (think Velveeta cheese).  There is a processed cheese spread here called "smeerkaas"  that is made with "sambal" --  chili pepper paste that I like, but have been looking or a healthier alternative for. After a few attempts, I finally managed to come up with a recipe that is really easy and overall not too unhealthy.
125 grams (125 ml or 1/2 cup) cheddar cheese shredded
125 grams crème fraîche
1 tablespoon (15 grams) cornstarch (maizena)
1-2 tablespoons

chili pepper paste

(sambal badjak or oelek)
1 teaspoon (.5 gram) garlic powder (optional)
1 teaspoon gelatin (optional)
Mix the crème fraîche and cornstarch in a small bowl and then add the cheddar cheese and mix well. Microwave for about 3 minutes, stirring every 20-30 seconds. Only heat it as long as needed to melt the cheese and make a nice smooth consistency. Add the chili pepper paste, garlic and if using, the gelatin or agar-agar and mix well. Transfer to a small covered bowl and refrigerate. I think it should keep about a week, but I don't know because it never lasts that long.
Notes:
The crème fraîche in this recipe is important because it contains buttermilk, which acts as a protein emulsifier to blend everything. The cornstarch acts as a thickener, but also as a stabilizer for the emulsifier.  If you don't use them you will have liquefied fat with stretchy strings of gooey cheese. The crème fraîche also gives it a nice tangy flavour. If you don't have crème fraîche, or don't like the extra tang, you can replace it with evaporated milk.
If you want a smoother gelled consistency, you can also add powdered gelatin, but I have not tried this yet. Dissolve about 1 teaspoon of gelatin in about 2 tablespoons of cold water and let it soften for 5-10 minutes. Add it to the cheese mixture at the very end before refrigerating. Some people also use a blender or food processor at the end, but I have not found the need for it.
Other strong flavoured medium or semi-hard cheeses work for this also, like gouda, gruyère or emmental. I haven't yet played with stilton, but that will be the next experiment along with softer cheeses like brie and camembert. You can also play with different spices or adding fresh herbs like chives, parsley, etc.
For anyone not familiar with sambal, it is a Southeast Asian chili pepper paste and can include a variety of other ingredients. Sambal oelek is usually made with raw red chiles, with a bit of salt and lime or vinegar. It has a fiery taste and usually used in cooking. Sambal badjak is made with roasted red chiles, shallots, and garlic with a bit of lime or vinegar. It has a mellow taste and brings out the sweetness of the chillies rather than their heat. Any type of chili pepper paste can be substituted depending on your taste.
Roasted Pumpkin Seeds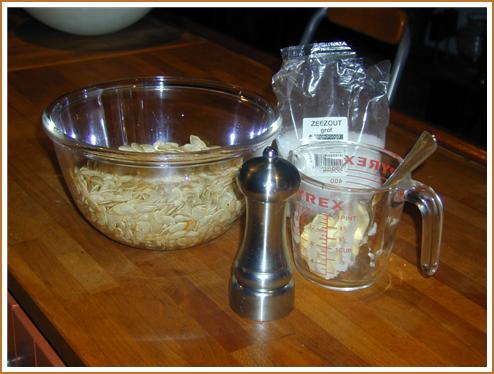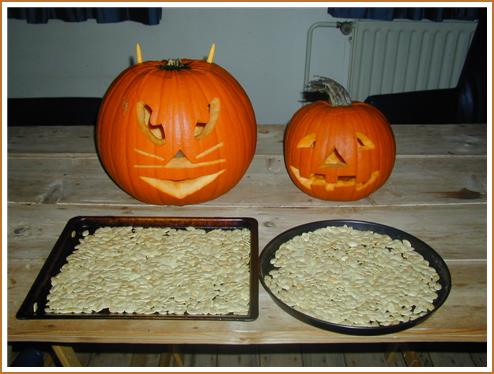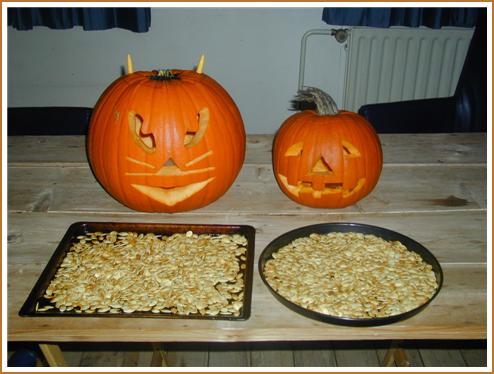 600 grams pumpkin seeds (about 3 pumpkins)
50 grams (3 tablespoons) butter (enough butter to coat the seeds)
salt to taste (sea salt is best)
Options To Taste: garlic powder, cayenne pepper, seasoning salt, Cajun seasoning blend
Preheat the oven to 150° C.
Remove the pulp from the pumpkin seeds. You can also wash them if you want. Let seeds dry a bit, and place in a bowl.
Melt the butter in a pan and then pour into the seeds, tossing while you go.
Add salt and seasoning to taste.
Spread the seeds out over a baking pan and bake, turning occasionally, until crisp and lightly golden browned. Bake about 45 minutes. Sometimes you hear them crackle at the end.