Preserved Apples
3 kilos applies
50 ml (3 tbsp.) lemon juice to prevent darkening (or 3000 milligram crushed vitamin C tablets) per 3 litres of water
1 litre (8 cups) white sugar
3 litres (12 cups) water
1 tbsp. nutmeg
1-2 cinnamon sticks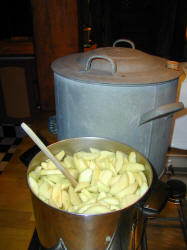 Peel and core the apples and cut in 1 centimeter slices and put in water with lemon juice (if using vitamin C tablets, rinse before cooking)
Boil sugar and water together in a pan until sugar is dissolved - about 5 minutes.
Add nutmeg and cinnamon to syrup.
Boil apples in syrup for 5 minutes.
Process for 20 minutes
Note: This recipe makes enough for 1 big pot of apples 3/4 full that made 5 litres of apples in syrup. Apples really swell up, so make sure to leave enough room in the jars. If you don't want the apples to float to the top, use more sugar. It took a little over an hour to peel, core and slice the apples.
Stewed Pears (Stoofpeertjes)
3 kilos small stewing pears stoofperen (Gieser Wildeman)
50 ml (3 tbsp.) lemon juice to prevent darkening (or 3000 milligram crushed vitamin C tablets) per 3 litres of water
9 cloves kruidnagels
2 cinnamon sticks kaneelstokje
150 gram brown sugar
1/2 litre red wine (or 250 ml black currant bessensap)
Peel and core the pears and cut in half and put in water with lemon juice (if using vitamin C tablets, rinse before cooking)
Put the pears, cinnamon sticks and sugar in a large pan and pour in the red wine and black currant.
Add enough water to just cover the pears.
Bring to the boil and leave the pears to simmer, covered, for 1.5 hours until tender. They cook them longer here, but I like them al dente.
Process for 30 minutes
Note: Doubling this recipe makes enough for 2 big pot of pears that made 7 litres of pears. If we would have done more pears, it would have worked for 10 litres of pears. It took a little over an 5 hours to peel, core and slice the pears.
Processing Apples and Pears
preserving jars with lids inmaakfles / weckfles met glazen deksels
rubber seals gummiringen
metal brackets to hold lids beugels / klembeugel
water bath canner weckketel
Check all jars and lids to make sure they are smooth by running your finger lightly around the rim. It should be completely smooth. If it isn't, it won't seal right. Sterilize all jars, lids, and seals in the dishwasher at a high temperature. It's best to use them hot out of the dishwasher.
Place water bath canner, filled half full with water, on the stove burner and begin to heat. Place an extra kettle of water on the stove in case extra boiling water is needed to cover the jars in the canner.
Pack into hot jars with hot syrup leaving 1 centimeter (1/2 inch) headspace.
Remove air bubbles from jars with a non-metal knife or spatula along the inside of the jar to remove air bubbles.
Wipe off the top of the jar rim with a clean cloth.
Place rubber seal and put brackets on to hold in place.
Load jars into hot water bath. The heat of the water should be about the same as the contents of the jars. Place jars far enough apart to allow for circulation of water around jars. Place cover on the canner.
Process jars in boiling water under medium heat. Start to count processing time when water in the canner comes to a rolling boil. Water should be 5 centimeters (1 to 2 inches) over the tops of the jars when boiling.
Set the jars on a cooling rack or layer of towels to cool. Leave space between cooling jars. This is when the vacuum seal is formed. Allow the jars to cool untouched for 12 to 14 hours. As soon as possible after cooling, check the seal of the jars for a vacuum. If a jar is not sealed within 24 hours, reprocess contents with a new lid or refrigerate and use in the next 1 to 2 days.
Clean the outsides of sealed, cooled jars. Label with date and contents and store in a cool 10-20°C (50-70°F), dark, dry place away from sun, light, or dampness. Canned products are best if eaten within one year.
Roasted Tomato Sauce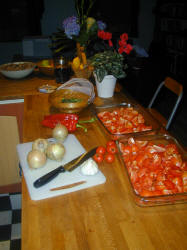 3 kilos tomatoes (I used plum and cherry) quartered (fill up the sieve we have completely).
4 onions
3-4 red peppers coarsely chopped
9-10 cloves garlic, coarsely chopped
4 tablespoons (50 dl) balsamic vinegar
1 bay leaf
1 1/2 tablespoons each fresh thyme, oregano, basil, and rosemary
1 tablespoon roughly ground black pepper
1 tablespoon sea salt (can leave whole, use less if you don't like salt)
1/2 cup olive oil
2 cans tomato puree (140 gr cans)
Put the halved tomatoes cut side up in a sheet cake pan or other pan with high sides (at least 2" 5 cm). If possible, make it just one layer.
Spread chopped onion on top of the tomatoes.
Mix balsamic vinegar and olive oil and drizzle over contents of the pan. Use the pretty-good stuff. You don't need the best olive oil for this application.
Salt and pepper liberally, sprinkle herbs on top.
Put in a 400 F oven for 45-60 minutes (60 worked well in our oven). You can go longer if you want sweeter onions and more intense tomato taste. Gas Mark 6, 400 Fahrenheit, 200 Celsius (moderately hot). After about 30 minutes, stir.
Pour into a blender and puree about 8 seconds (longer if you want it to be a smooth consistency).
Mix in the tomato puree while the sauce is still warm.
To use, simmer the sauce in a large pan and reduce over medium heat until you reach the thickness you want. Taste, and adjust seasonings. More herbs can also be added.