Beef bourguignon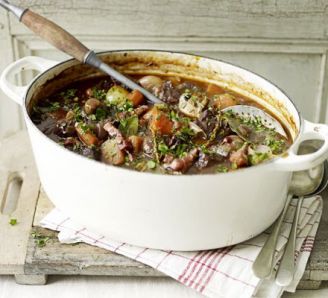 Recipe from Good Food magazine, November 2010
The secret to this super-rich beef casserole is to use all wine and no stock
Cooking time: Prep: 45 mins Cook: 3 hrs, 30 mins Plus overnight marinating
Skill level: Easy
Servings: Serves 6
Rob also likes this recipe in Dutch for Boeuf Bourguignon. It takes a bit less time.
Ingredients
1.6kg braising steaks, cut into large chunks
3 bay leaves
small bunch thyme
2 bottles cheap red wine
2 tbsp oil
3 large or 6 normal carrots, cut into large chunks
2 onions, roughly chopped
3 tbsp plain flour
1 tbsp tomato purée
To serve
Method
Tip the beef into a large bowl with the bay leaves, thyme, wine and some pepper, then cover and leave in the fridge overnight.
Heat oven to 200C/180C fan/gas 6. Place a colander over another large bowl and strain the marinated meat, keeping the wine. Heat half the oil in a large frying pan, then brown the meat in batches, transferring to a plate once browned. When all the meat is browned, pour a little wine into the now-empty frying pan and bubble to release any caramelised bits from the pan.
Heat the rest of the oil in a large casserole and fry the carrots and chopped onions until they start to colour. Stir in the flour for 1 min, then add the tomato purée. Add the beef and any juices, the wine from the frying pan and the rest of the wine and herbs. Season and bring to a simmer. Give everything a good stir, then cover. Transfer to the oven and bake for 2 hrs until the meat is really tender. Cool. Will freeze for up to 3 months.
To serve, defrost completely overnight in the fridge if frozen, then place on a low heat to warm through. Meanwhile, heat the butter in a frying pan and add the bacon and pearl onions. Sizzle for about 10 mins until the bacon starts to crisp and the onions soften and colour. Add the mushrooms and fry for another 5 mins, then stir everything into the stew and heat for 10 mins more. Serve scattered with chopped parsley.
Rob's Coq Au Vin (Thon au Vin)
We make 2 pans, one with chicken, the other with tuna. For most of the ingredients below, half goes in each pan.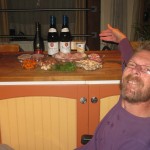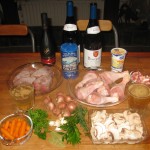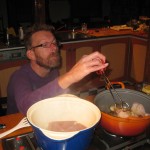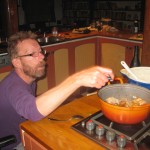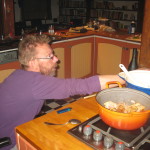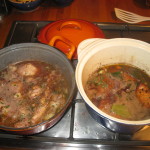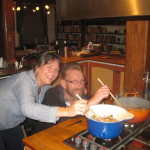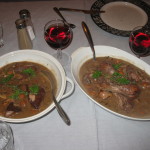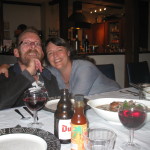 Ingredients
6-8 medium chicken drumsticks, approximate 750 grams (or a combination of chicken breasts,thighs, drumsticks)
4 medium tuna steaks, approximately 500 grams (frozen and thawed works also)
150 grams butter (halved)
Sea salt
Pepper
4-6 cloves garlic (halved)
150 grams pearl onions or peeled shallots (halved)
150 grams small carrots cut into 1/2 centimeter pieces (halved)
150 grams lardons (matchstick-sized pieces of bacon) for the chicken
100 ml cognac (halved)
1 bottle of nice Bordeaux, Burgundy or Langeudoc wine (we get extra to drink with the meal)
250 ml (1 cup) chicken broth for the chicken
250 ml (1 cup) fish broth broth for the fish
6-8 sprigs fresh thyme, saving some for garnish (halved)
Handful of fresh curly and flat leaf parsley, chopped, saving some for garnish (halved)
1 tablespoon Herbes de Provence (halved)
2 bay leaves (halved)
2-4 table spoons crème fraîche (halved)
125 grams sliced champignon mushrooms or button mushrooms (halved)
Directions
Salt and pepper the chicken (and tuna).
In a large, heavy skillet or Dutch oven, fry the chicken pieces for about 10 minutes (tuna for 5 minutes ) in butter until browned.
Remove from pan and set aside.
Remove some of the the butter and add onions, carrots, and garlic.
Add the lardons (bacon) to the chicken pan.
Saute 5 minutes to soften.
Add the chicken (tuna) to the pan.
Pour a cognac into pan and quickly flambe by lighting the fumes just above the pan and let burn out.
Return the pan to the heat and gradually stir in the wine and chicken (fish) broth.
Add the herbs.
Cover and simmer for 45 minutes for chicken (15-20 minutes for tuna).
Remove cover and continue to simmer for 15 minutes to allow the sauce to reduce a bit.
Remove from heat and add crème fraîche.
Let pan sit overnight in the refrigerator.
Remove pan from refrigerator and let it come to room temperature.
Sautee mushrooms in butter.
Add mushrooms to the pan and heat for about 15 minutes until hot.
To serve, top the chicken and vegetables with reserved fresh parsley and sprigs of thyme.
Ellyn's Somewhat Chicago Style Pizza
Ingredients
Dough for 2 pizza crusts

1 1/2 cups of warm water
1/4 cup olive oil (3 tablespoons)
4 cups of flour or more
1 teaspoon salt
2 teaspoons sugar (optional)
2 teaspoons italian seasoning (optional)
2 teaspoons dried garlic (optional)

1

package yeast (

3

teaspoons)
Extra olive oil, flour or cornmeal for finishing

Sauce

1 400 gram can crushed tomatos
250 ml tomato suce
1 teaspoon salt
1 teaspoon sugar (optional)
1-2 tablespoon crushed garlic (4-6 cloves)
1-2 tablelspoon italian seasoning (mix of oregano, basil, rosemary, etc.)

Dough for 3 pizza crusts

2 cups of warm water
1/3 cup olive oil (4 tablespoons)
6 cups of flour or more
1 1/2 teaspoon salt
3 teaspoons sugar
1 tablelspoon italian seasoning (optional)
1 tablespoon dried garlic (optional)

1+

package yeast (4 teaspoons)
Extra olive oil, flour or cornmeal for finishing

Toppings

Shredded cheeese, mozzarella, parmesan, goat cheese
Mushrooms, thinly sliced.
Onions, thinly sliced.
Bell peppers, thinly sliced.
Courgette, Eggplant, thinly sliced (optional).
Spinach washed and chopped.
Pepperoni or ham, thinly sliced and quartered.
Fresh basil and other herbs chopped.
Instructions
Prepare the dough by putting all dough ingredients in the order given into the bread machine and put on the dough cycle (8 for my machine). This takes approximately 1.5 hours. I usually check after about 10 minutes, during the mixing stage, to make sure the dough is a good consistency. You may need to add more flour/water if it is too wet/dry. When dough is finished, you can let it sit in the bread machine until you are ready to use it, and then cut the dough in half or thirds depending on how many pizzas.
Prepare the sauce by combining all ingrediets in a bowl. It's best to let this sit for a while to let the flavours mingle.
Prepare the cheeses in advance so that they can dry before using if using fresh mozzarella
Prepare the vegetables in advance so that they can dry before using , otherwise they make the crust soggy. For the wet vegetables like bell peppers, courgette, and eggplant, I microwave for 2 minutes and let them air dry. For the spinach I microwave for about 4 minutes and squeeze out the water when it is cool. If using fresh mozzarella, drain and chop it so that it can dry before using.
Preheat the oven to 230°F / 450°F for at least 30 minutes, preferably an hour. If using pizza stones, place them in the oven at the same time to pre-heat.
On a floured surface, use your hands to shape the dough until it is dough is the desired shape and thickness. Keep adding flour as needed to the surface so the dough won't stick.
Dust a pizza pan with corn meal or rub olive oil in pans. If using a peel, assemble the pizza right on the peel dusted with corn meal. Then use the peel to place the pizza on a pre-heated pizza stone.
Use a spatula and slide the dough onto the pizza pan. Don't worry if it looses it shape a little, you can press it back in the pan. If the pizza is "sticky" and won't slide easily onto the pans, use some dental floss to slide under the dough. You can also use a rolling pin. You can let the pizza dough rest in the pan for a little while before adding sauce and toppings.
Brush the the crust lightly with olive oil so it does not absorb the water in the sauce and toppings and because olive oil heats faster and make the toppings cook faster.
Spoon on the tomato sauce, sprinkle with cheese, and place the toppings on the pizza in the order given.
Bake for 30 minutes. If a lot of excess water is coming from the vegetables after about 10 minutes, blot it with paper towel.
Beer Can Chicken
Is it just me, or is beer can chicken a boy thing? Look, I grew up with four younger brothers, and if you told them you were going to insert a half-drunk beer into the butt of a chicken and grill it, I think they would actually get interested in cooking. Joking aside, this is a brilliant way to roast a chicken, on the grill or in the oven. Yes the chicken looks rather ridiculous on its beer can perch, covered with an herb rub and half-ready to salute you. But hear me out. While the chicken is dry roasting on the outside, the inside is being bathed with steamy beer, keeping the chicken meat wonderfully moist. The result is tender, falling-off-the-bone meat, encased in salty, herby, crispy skin. What follows is a basic method for beer can chicken (also known as beer butt chicken for obvious reasons). We're using just some olive oil, salt, pepper, and thyme on the chicken, which we believe brings out the best in the chicken's flavor. You can easily experiment with your favorite spice rub, or even use wine or root beer instead of a standard beer.
Print
Beer Can Chicken (a.k.a. Beer Butt Chicken)
Cook time: 1 hour, 30 minutes
Serves 4
Ingredients
1 4-pound whole chicken
2 Tbsp olive oil or other vegetable oil
1 opened, half-full can of beer, room temperature
1 Tbsp kosher salt
2 Tbsp chopped fresh thyme leaves for the chicken
Some spicky BBQ rub for the chicken
Sprigs of fresh thyme, rosemary and sage for in the beer can
Method
1 Prepare your grill for indirect heat. If you are using charcoal, put the coals on one side of the grill, leaving another side free of coals. If you are using a gas grill, fire up only half of the burners.
2 Remove neck and giblets from cavity of chicken, if the chicken came with them. Rub the chicken all over with olive oil. Mix the salt, pepper, and thyme in a little bowl, then sprinkle it all over the chicken.
3 Make sure the beer can is open, and only half-filled with beer (drink the other half!) If you want, you can put a sprig of thyme (or another herb like rosemary or sage) in the beer can. Lower the chicken on to the open can, so that the chicken is sitting upright, with the can in its cavity. Place the chicken on the cool side of the grill, using the legs and beer can as a tripod to support the chicken on the grill and keep it stable.
4 Cover the grill and walk away. Do not even check the chicken for at least an hour. After an hour, check the chicken and refresh the coals if needed (if you are using a charcoal grill). Keep checking the chicken every 15 minutes or so, until a meat thermometer inserted into the thickest part of the thigh reads 160°F - 165°F. The total cooking time will vary depending on the size of your chicken, and the internal temperature of the grill. A 4 lb chicken will usually take around 1 1/2 hours. If you don't have a meat thermometer, a way to tell if the chicken is done is to poke it deeply with a knife (the thigh is a good place to do this), if the juices run clear, not pink, the chicken is done.
5 Carefully transfer the chicken to a tray or pan. I say "carefully" because the beer can, and the beer inside of it, is quite hot. One way to do this is to slide a metal spatula under the bottom of the beer can. Use tongs to hold the top of the chicken. Lift the chicken, beer can still inside, and move it to a tray. Let the chicken rest for 10 minutes. Carefully lift the chicken off of the can. If it gets stuck, lay the chicken on its side, and pull out the can with tongs.
Grilled Tuna Steaks with Avocado Salsa
4 fish steaks (halibut, swordfish or tuna)
2 tablespoons olive oil
2 tablespoons olive oil mayonnaise
2-4 tablespoons fresh cilantro leaves
2 garlic cloves, minced
2 tablespoons fresh lime juice
1 tomato, peeled and diced
1 avocado, peeled and diced
1 jalapeño chile, seeded, de-ribbed, minced or Tabasco sauce (optional)
Salt and pepper
lime wedges
In a mixing bowl, combine the olive oil mayonnaise , cilantro, garlic, lime juice, tomato, avocado, chile, salt, and pepper.
Spread olive oil on fish to evenly coat. Over medium-hot coals, grill fish 5 minutes on each side or until fish flakes easily in center. Spoon avocado salsa over hot fish. Serve with cilantro and lime wedges. Makes 4 servings.
Grilled Tuna Steaks marinated in Soy and Sherry sauce
INGREDIENTS:
4 salmon or tuna steaks, good quality, about 1-inch thick
1/4 cup soy sauce or tamari
1/4 cup cooking sherry
1 tablespoon fresh lemon juice or 1 teaspoon concentrated
1-2 cloves garlic, crushed and minced
3 tablespoons olive oil
1 teaspoon cornstarch or arrowroot (alles binder)
1-2 teaspoons wasabi (optional)
1 teaspoon sesame oil (optional)
PREPARATION:
Arrange fish in a shallow, non-reactive dish. Whisk together marinade ingredients in a small bowl; pour over steaks. Cover and refrigerate for 1 to 1 1/2 hours, turning frequently. Place fish on a well-greased grill or grilling basket and grill over medium coals for about 3 to 4 minutes, basting frequently with marinade. Turn and cook for 3 to 4 minutes longer, or until fish is nicely grilled on the outside but still pink or somewhat translucent in the center. Serves 4.
Roasted Chicken with garlic, lemon and rosemary
The trick to this recipe is brining it overnight. It really keeps it moist.
Ingredients
1 (1 kilo / 2 pounds) whole roasting chicken 5-6 garlic cloves 2 cups water 1 tablespoon salt 1/2 teaspoon ground pepper 1 tablespoon olive oil 1 lemon, cut into 4 wedges 2-3 sprigs of rosemary 1 onion cut into 1 centimeter (1/2 inch) thick slices (optional)
Method
Prepare the brine by combining garlic, water, salt, pepper, olive oil and the juice from the lemon wedges (save them) into a blender and blend a for about 1 minute. I like to throw in a few rosemary leaves at the end and blend for a few seconds.
Put the already squeezed lemon wedges and rosemary sprigs inside the cavity of the chicken.
Put the chicken in a large resealable plastic bag, or in a non-reactive bowl. Pour the brine inside the cavity and all over the chicken in the bag, or in the bowl. Squeeze out all the air from the bag and seal, or put a cover over the bowl. Refrigerate overnight breast side down - 12 to 24 hours.
Preheat the oven to 190°C /375°F. Remove the chicken from the brine. Place the onion slices in the bottom of a a roasting pan or on a rack if not using onion slices, breast side up. Sprinkle salt and pepper all over the chicken.
Roast for about an hour, basting with the juices occasionaly, until the juices run clear from the thigh when pierced with a fork. Breast meat should have an internal temperature of 74°C / 165°F, thigh meat should have an internal temperature of 80° C / 175° F.
Let the chicken rest for 10 minutes before carving and serving, and don't forget to take the lemon wedges out.
Original Recipe Yield 2 gallons. For a 3 kilogram turkey I halve this recipe.
Ingredients
1 gallon water or vegetable broth (I like to add 1-2 cups orange juice)
1 cup sea salt
1 tablespoon fresh rosemary
1 tablespoon fresh sage
1 tablespoon fresh thyme
1 tablespoon fresh savory
a few cloves of garlic
some curshed peppercorns
1 gallon ice water
Directions
In a large stock pot, combine the vegetable broth, sea salt, rosemary, sage, thyme, and savory. Bring to a boil, stirring frequently to be sure salt is dissolved. Remove from heat, and let cool to room temperature.
When the broth mixture is cool, pour it into a clean 5 gallon bucket. Stir in the ice water.
Wash and dry your turkey. Make sure you have removed the innards. Place the turkey, breast down, into the brine. Make sure that the cavity gets filled. Place the bucket in the refrigerator overnight (our outside).
Remove the turkey carefully draining off the excess brine and pat dry. Discard excess brine.
Cook the turkey as desired reserving the drippings for gravy. Keep in mind that brined turkeys cook 20 to 30 minutes faster so watch the temperature gauge.
Tuna Pasta Casserole
Ingredients:
* 250 gram (1/2 bag) farfalle bow-tie pasta
* 2 table spoons tablespoons butter
* 2-3 green onions or 1 small chopped onion
* 100 grams mushrooms sliced
* 150 grams of mixed cooked fresh or frozen peas, corn, red peppers (or 1 can mexico melange)
* 1 clove garlic, minced
* 1 small package/can cream of mushroom soup
* 100 grams emmental cheese shredded
* 1 tablespoons dry sherry
* dash fresh ground nutmeg
* salt and pepper, to taste
* 1 can (185 grams) tuna, drained and flaked
* Packaged fried onion rings (optional if you like crunch)
Preparation:
Heat oven to 185°/350°. Cook pasta in boiling salted water following package directions; transfer to a colander to drain. In a medium pan, melt 2 tablespoons butter and cook green onions, mushrooms and garlic for about 2 minutes. Place in a low casserole dish. Cook fresh or frozen fresh or frozen peas, corn, red peppers (or use 1 can mexico melange as it is) and add to the casserole dish. Stir in the tuna, the can of mushroom soup, sherry, nutmeg, salt and pepper and drained pasta. Sprinkle with emmental cheese. If using fried onion rings, sprinkle them on top of the cheese. Bake for 25-30 minutes, or until browned and bubbly.
Fried Fish and vegetables
Ingredients
1 liter vegetable oil for frying
1 cup flour
1 /2 cup beer
1/2 cup milk
1 egg
1 teaspoon baking powder
Salt, pepper, garlic powder and old bay seasoning to taste
Cod fillets
Onion, mushrooms, peppers, corgette, etc. sliced
Directions
In a large, deep skillet, heat oil to 180 degrees C (365 degrees F).
In a medium bowl, combine flour, egg, milk, beer, salt, pepper, garlic powder and old bay seasoning. Let this sit a while.
Just before starting, add baking powder and mix until smooth.
Dredge fish and vegetable slices in the batter, until evenly coated.
Deep fry in the hot oil until golden brown.
Drain on paper towels.
Mexican Lasagna
300 gr. ground beef
2 c. grated cheese
1 med. onion, chopped
1 pepper, chopped
1 pkg. taco seasoning
1 jar salsa
1 can chopped tomatoes
1 can refried beans
4-6. small tortillas
I make a vegetarian version and a meat version and use small round baking dishes to fit the tortillas. Brown beef drain. Brown onion and pepper and then add taco seasoning and salsa. Make a layer of sauce on the bottom of the banking dishes. Layer a tortilla, then beans, meat and cheese and repeat 1 or 2 times to make 2 or 3 layers. Bake at 180 C (350 F) until cheese melts and is cooked through - about 25 to 30 minutes browning it the last 5 minutes with the broiler. Serve with sour cream and jalepeno peppers.
Ingredients
10 medium croissants cut in half lengthwise
150-200 grams (2 cups) shredded cheddar and white cheese
100 grams smoked salmon
2-3 chopped spring onions
8 eggs, beaten
1 ½ cups milk
¼ teaspoon salt and pepper
1 teaspoon ground dry mustard
1 tablespoon fresh dill
1 tablespoon fresh parsley
Directions
Grease a 9x13 inch baking dish with cooking spray or butter.
Place the croissant bottoms in the baking dish (bottom side down).
Sprinkle with the salmon, green onions and half of the cheese.
Beat together eggs, milk,, salt, pepper, mustard, dill and parsley.
Pour the egg mixtrure over the croissants.
Sprinkle with the remaining half of cheese.
Place the croissant tops in the baking dish (top side up).
Cover with foil and refrigerate for several hours or overnight.
Bring to room temperature.
Bake in preheated oven at 175 degrees C (350 degrees F) for about 30 minutes covered with foil and another 15 minutes uncovered (about 45 minutes total or until set).
Dutch recipes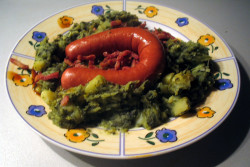 I realise that I don't have much Dutch food in my recipes. Actually, I think there is a reason for that, in that I don't really care for Dutch cuisine. The cheese and pastries are good, but most of the main dishes are some variation of "smooshed food" or "stamppot" as they call them. I call them "piemel maaltijden" (penis meals) because there is usually a sausage involved. Here is a link if you want to read about Dutch cuisine, and I'll try to update this with some of them as I get the time. The  picture is of the national dish Boerenkool (smooshed potatoes and kale). Stamppot is so popular that they even mentioned it in a song that was done for their king. Here is an article about This is it: the public-inspired song for king willy. 
This is it: the public-inspired song for king Willem-Alexander - See more at: http://www.dutchnews.nl/news/archives/2013/04/this_is_it_the_public-inspired.php#sthash.TtE2RSi9.dpuf
Aj's Pastitsio (a simplified version)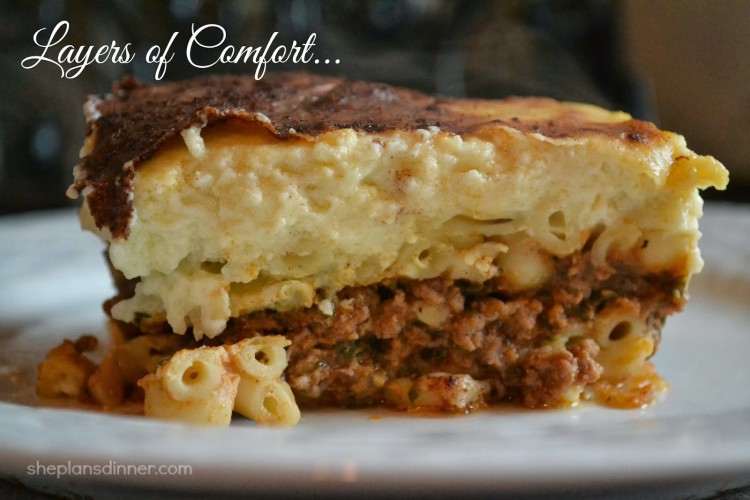 This is recipe from my friend Aj, from her late partner Diana's greek family. I have modified it for smaller proportions which is about 6 servings, which I think is about 1/3 of the original recipe. I've also added vegetarian ingredients that we used.
Cream Sauce:
9 TBL butter   (3 TBL)                                         1 TBL salt (1 teaspoon)
1 cup plus 2TBL flour  (4-5 TBL)_                      6 whole eggs, lightly beaten (2 eggs)
6 cups hot milk (2 cups)                                     1/8 tsp nutmeg (1/8 tsp fresh grated and about 1/8 tsp paprika power)
Melt butter in saucepan. Add flour and cook, stirring until mixture is light golden. Gradually whisk in hot milk. Cook, stirring constantly, until sauce is smooth and thickened. Stir in salt and set aside to cool. When partly cool, stir in eggs.
(Often the sauce is a bit lumpy at this point, despite my best efforts. If it bothers you, pour through a strainer before cooling. I don't bother for just us; I do if I'm making it for company. Probably no one would even notice).
Filling:
2 medium onions, chopped   (1 )                  salt and pepper
4 TBL butter  (2 tbl. olive oil)                          2 TBL tomato paste (75 gr)
2 LBS ground meat                                       ½ cup water (1/4 cup )
(175 gr minced tofu, 1/2 zucchinni 1/2 red pepper)
Dash of cinnamon (we skipped this,but added about 1 TBL of Cyprus oregano)
Sauté onion in butter until softened and slightly colored. Add meat and cook, stirring, until meat is browned. Add cinnamon and salt and pepper to taste. If the meat you are using is fatty, drain off the fat at this point, then move meat to one side and add tomato paste to bare pan 'hot spot', cooking for a minute or two. Add water and stir everything together to blend, cooking for 5 minutes. Set aside, or cool and refrigerate if making ahead.
Pasta:
2 LBS Number 2 Macaroni – see notes
(1/2 of 375 gr box)
6 eggs, beaten (2 eggs)
1 TBL salt (dash of salt)
About 4 cups of grated cheeses – I like a combination of cheeses: about 2 cups Asiago (or other mild cheese) for the melt factor, and about 2 cups Kefalotyri if you can get it (or Romano if you can't).
(2 cups: 225 gr Halloumi and 150 gr Mozzarella, because we like a lot of cheese)
Cook pasta according to package directions. Drain and rinse with hot water. When lukewarm, add the eggs and salt and mix well.
Put half the pasta in a buttered 11 X 17 X 3 pan (or whatever you have that's close) and sprinkle with ¼ of the cheese mixture. Add the filling and sprinkle with another ¼ of the cheese mixture. Add remaining pasta and sprinkle with another ¼ of the cheese mixture. Bake in a 350 degree F oven for 10 minutes.
Top with cream sauce, sprinkle with remaining ¼ of cheese mixture, bake for 30 minutes or until golden brown (sometimes I finish the browning with the broiler).
[I used a 18 cm x 18 cm pan", which it just barely fit in. I also cooked it all in one go in the oven at180 degree Celsius for 45 minutes]
Notes:   Milk – I generally use whole or 2% as skimmed just doesn't have enough body. Doesn't really have to be hot, it just speeds up the thickening process.
Salt - It seems like there's a lot of salt in this dish, but the finished product is not salty.
Nutmeg – I have successfully substituted mace for nutmeg without being able to taste the difference.
To substitute fish for the meat: I think I used Pollack because it was firm-fleshed, mild flavored and inexpensive. I chunked it up (like, big bite size pieces) and cooked it for a few minutes after the onions and tomato paste mixture were done. I was a bit afraid it wouldn't cook all the way in a casserole so I partially pre-cooked it.
Pasta – Greeks use Number 2 Macaroni, but it's impossible to find where I live. Any hollow pasta will work if it's not too big – I often substitute Bucatini if I can get it (that's probably the closest thing to Number 2 Macaroni), or penne if that's all that's available. Ziti works well also.
Pan size – I used to have a crockery lasagna pan but I broke it. Still have not replaced it, so I buy a cheap disposable foil pan and line it with a double layer of heavy duty aluminum foil (which also makes it easy to lift the whole thing out of the pan).
Make it ahead – I usually make the meat ahead and refrigerate it, then make the macaroni and sauce when I want to assemble it (still usually the day before I serve it). I bake it, cool it, then cover it with foil and refrigerate it. In the directions, the oven temp and cooking time are geared to the already hot food, so since I'm usually putting it into the oven cold, I drop the oven temp to 325 F and bake it covered for 45 – 60 minutes.
Gogonzola, Smoked Salmon, and Spinach Pasta
This is one of Rob's favourite meals, and one of my favourites because it is an easy one-pot meal. We make a lot of variations of it, and there really is no set recipe. We often make this and only use half of the smoked salmon and put 1/2 of the pasta with sauce in a microwave dish and warm it up the next day and then add the other half of smoked salmon.
Serves: 4, Prep: 10 mins Cook: 15 mins
Ingredients
250 gr fresh or dried pasta
Note: We like 5 cheese ravioli but often try others. If we don't have fresh pasta we use about 250 gr of Penne rigate. Really, any kind of pasta will work, as well as Gnocchi made from potatoes.
200 gr smoked salmon slices cut into bite-size pieces or cubes
Note: If you don't like smoked salmon, I think fried bacon would be a good substitute.
150 gr Gorgonzola cheese cubed
Note: Gorgonzola is  Italian blue cheese from the Milan area in Italy. It is made from unskimmed cow's milk. It can be buttery or firm and crumbly and quite salty, with a "bite" from its blue veining. We use a type that is buttery and soft. Roquefort cheese, may also be used.
125 gr fresh Mozzarella cheese cubed.
Note: We usually use Mozzarella Fior di latte, which is made from cow's milk and often sold commercially as "buffalo" but it is not. Mozzarella di Latte di Bufala and Mozzarella di Bufala Campana, which are made from the milk of Italian buffalo are even better. I also think Mozzarella affumicata (smoked mozzarella) would be nice, but have yet to find it locally. We often substitute grated low-moisture part-skim Mozzarella cheese, in which case a little less is needed (about 1/3 cup).
200 gr fresh spinach chopped  (a few big handfuls or frozen spinach)
Note: Bimi, peas and kale are also nice, but need to be cooked longer with the pasta.
2 tablespoon of fresh Italian herbs (oregano, basil,

thyme

, etc.) or about 1 tablespoon dried herbs.
1-2 garlic cloves chopped (or about 1 teaspoon minced or powdered garlic)
A dash of

red chili pepper flakes

. Sometimes I also add a little nutmeg.
Freshly-grated pepper Usually additional salt is not needed because the smoked salmon and Gorgonzola cheese are salty.
Parmesan cheese to top
Directions
About 1-2 hours before cooking time, mix the Crème fraîche with the herbs and let it sit at room temperature. If using dried garlic, also add that so it can mix in with the Crème fraîche.
Boil pasta in large pot of salted water until "al dente" (tender, yet still firm based on the packaging instructions).
About 1-2 minutes before the pasta is done, add fresh spinach. If using frozen spinach, or other vegetables, add them earlier and adjust the time for cooking the pasta.
Drain the pasta and spinach in a sieve and let it sit while you make the sauce.
In the same pot, Lightly saute the fresh garlic.
Take the pan off the heat and add the Crème fraîche mixture, Gorgonzola and Mozzarella cheese.
Cook over medium-high heat until it is a good consistency -- a few lumps of cheese is often nice.
Add the smoked salmon, pasta and spinach to the sauce and toss well to coat evenly. We usually serve the smoked salmon cold on the side because Rob likes it that way.
Top with freshly grated Parmesan cheese and serve.
Note: We like Parmigiano-Reggiano.