Tarte Tatin by Anneloes den Herder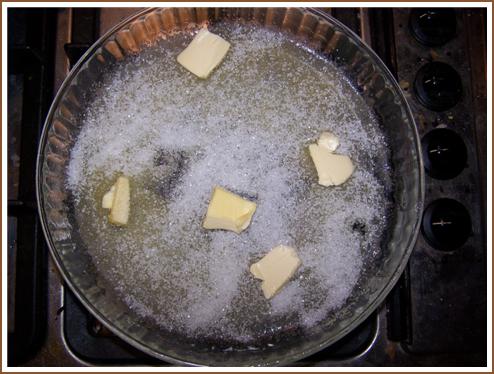 Boter en suiker in de bakvorm [liefst glas]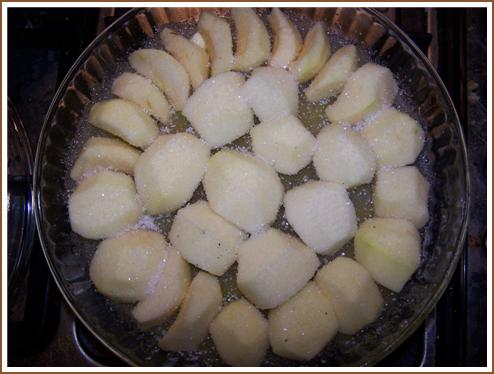 Geschilde appels op de boter en suiker leggen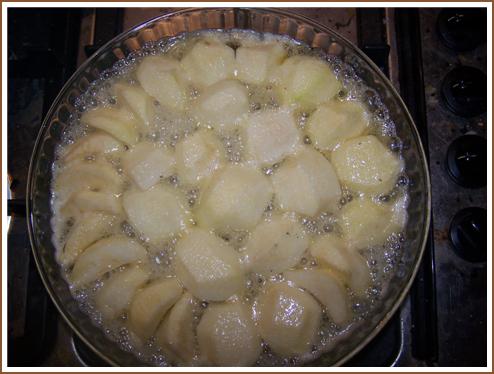 Op laag vuur laten smelten en carameliseren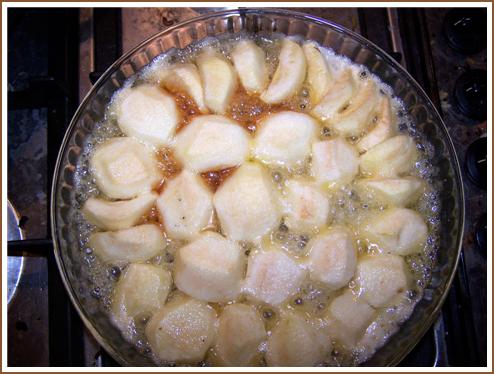 Het carameliseren begint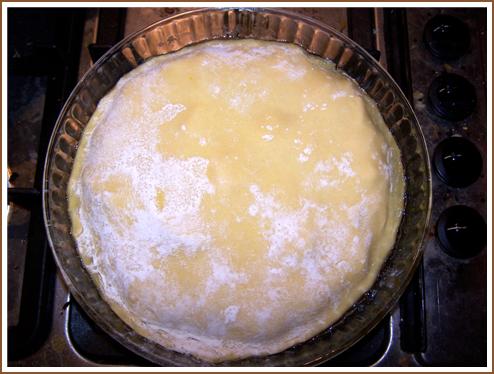 Het deeg over de appels leggen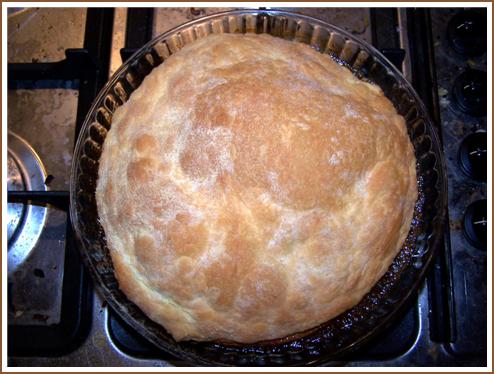 In de oven zetten voor 20 min. [180°C] - het deeg is mooi bruin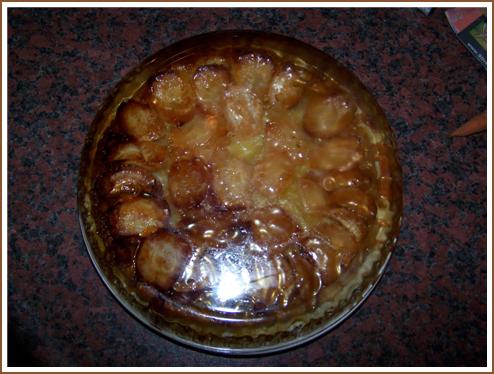 De taart omdraaien op een boord en wachten tot alle appels loslaten van de vorm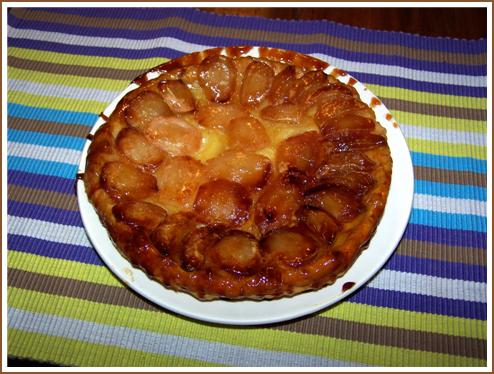 Voilà, une belle tarte Tatin!
For the pastry
320g/11oz plain flour
225g/8oz ice-cold butter
110g/4oz icing sugar
3 free-range egg yolks
For the filling
6 Cox or 4 Granny Smith apples, peeled, cored and cut into 8-12 wedges
¼ lemon
110g/4oz caster sugar
110g/4oz butter
To serve
double cream or vanilla ice cream
1. Preheat the oven to 250C/500F/Gas 9.
2. First, make the pastry. In a food processor, mix the flour, butter and icing sugar just until they resemble breadcrumbs. Add the egg yolks and, using the pulse button, mix until it comes together in a dough.
3. Remove the dough from the mixer bowl and divide into two pieces. Wrap in clingfilm and put in the freezer to chill for at least an hour.
4. For the filling, place the apple wedges in a bowl, squeeze the lemon juice over them and toss them gently.
5. Sprinkle 85g/3oz of the sugar in a heavy-bottomed pan and place on the hob over a medium heat, turning the pan frequently and making sure the sugar doesn't burn. Allow the sugar to caramelise a little and become a pale golden brown, then remove from the heat and arrange the drained apple pieces in one layer over the bottom of the pan.
6. Place the pan in the oven and bake until the apples have softened a bit and started to release some liquid - about 10 minutes.
7. Remove from the oven and sprinkle over the remaining sugar and dot the butter on top. Remove the pastry from the freezer and, using the coarse side of a cheese grater, grate the pastry with long steady strokes over the apples until it forms an even layer at least 2.5cm/1 inch thick. Do not press down. Return to the oven, turn the heat down to
220C/425F/Gas 7 and bake until the pastry is golden brown - about 20 minutes. Remove from the oven and leave to rest for a minute or two.
8. Take a heatproof serving dish that is generously larger than the pan on all sides and place over the pan. Protecting your hands with a dry folded tea-towel, and holding the dish and pan firmly together, quickly and carefully flip the pan and the dish so that the pan is on top. Tap the pan sharply a few times all round with a wooden spoon, then lift off. The tart should be left on the serving dish with the apple on top.
9. Serve warm with double cream, crème fraîche or vanilla ice cream.
Bossche bollen

12 Bollen, gevuld met slagroom, en bedekt met pure chocolade
Ingrediënten
3 dl water
125 gram boter
zout
150 gram bloem
5 a 6 eieren
1/2 liter slagroom
1 reep pure chocolade (or 2-3 Dr. Oetker Chocolazuur)
1 zak Klop-fix (optional)
1 tsp vanille
60 gram poedersuiker
Voorbereiden
Oven voorverwarmen op 220 graden.
Water met de boter en het zout in een pan aan de kook brengen.
Op het vuur de bloem ineens toevoegen en goed roeren tot het deeg als een bal loslaat.
Van het vuur af de eieren er één voor één door roeren en blijven roeren totdat het ei volledig is opgenomen, na het vijfde ei controleren of het zesde ei nog wel nodig is.
Wanneer het deeg mooi glimt en goed spuitbaar is, is het 6e ei niet nodig.
Het deeg overdoen in een spuitzak, of met behulp van 2 lepels op het bakblik leggen.
Het bakblik van te voren dun invetten, en bestuiven met bloem.
Hierop het deeg spuiten of met behulp van de lepels 12 hoopjes vormen en goed van elkaar af leggen, anders bakken ze aan elkaar.
Bereiden
Zet het bakblik in het midden in de oven.
De baktijd is 25 minuten.
Uit de oven de soezen meteen op een rooster af laten koelen.
Smelt de chocolade au bain-marie met een paar lepels water.
De afgekolede soezen in het chocolademengsel dopen.
Slagroom kloppen met vanille en poedersuiker (en Klop-fix).
Als de chocolade goed is gehard en afgekoeld, dan met behulp van de spuitzak de slagroom via de onderkant erin spuiten.
Nestle Toll House Chocolate Chip Cookie Recipe
2 1/4 cups all-purpose flour (250 grams)
1 teaspoon baking soda
1 teaspoon salt
1 cup (2 sticks, 1/2 pound) butter, softened (225 grams)
3/4 cup granulated [white] sugar (170 grams)
3/4 cup packed brown sugar (150 grams)
1 teaspoon vanilla extract
2 eggs
2 cups (12-ounce package) NESTLE TOLL HOUSE Semi-Sweet Chocolate Morsels
COMBINE flour, baking soda and salt in small bowl. Beat butter, granulated sugar, brown sugar and vanilla in large mixer bowl. Add eggs one at a time, beating well after each addition; gradually beat in flour mixture. Stir in morsels and nuts. Drop by rounded tablespoon onto ungreased baking sheets.
BAKE in preheated 375° Fahrenheit (190° Celsius) oven for 9 to 11 minutes or until golden brown. Let stand for 2 minutes; remove to wire racks to cool completely.
PAN COOKIE VARIATION: PREPARE dough as above. Spread into greased 15"x10" jelly-roll pan. Bake in preheated 375 degree Fahrenheit (190 degree Celsius )oven for 20 to 25 minutes or until golden brown. Cool in pan on wire rack.
Apple Crumble
Crumble Ingredients
300g/10½ oz plain flour, sieved pinch of salt
175g/6oz unrefined brown sugar
200g/7oz unsalted butter, cubed at room temperature
butter for greasing or cooking spray
Filling Ingredients
450g/1lb apples, peeled, cored and cut into 1cm/½in piece
50g/2oz unrefined brown sugar
1 tbsp plain flour
1 pinch of ground cinnamon
1-2 tablespoons brandy or cogniac
1 teaspoon lemon juice
1. Preheat the oven to 180C/350F/Gas 4.
2. Place the flour and sugar in a large bowl and mix well. Taking a few cubes of butter at a time rub into the flour mixture. Keep rubbing until the mixture resembles breadcrumbs.
2. Place the fruit in a large bowl and sprinkle over the sugar, flour and cinnamon. Stir well being careful not to break up the fruit.
3. Butter a 24cm/9in ovenproof dish. Spoon the fruit mixture into the bottom, then sprinkle the crumble mixture on top.
4. Bake in the oven for 40-45 minutes until the crumble is browned and the fruit mixture bubbling.
5. Serve with thick cream or custard.
Paola's Hollandse Appeltaart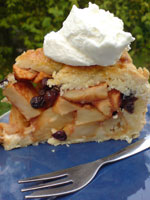 Blogger Paola Duque-Westbeek  has a passion for good food and the Dutch culture of the Golden Age. She has obtained a BA in Dutch Studies at the University of Leiden with an emphasis on Dutch 17th century painting. In the future she hopes to publish a book about pure food and eating well." For more information on Paola and culinary delights visit Paola's blog In my life.
Ingredients:
50g currants
50g raisins
2 tbsps dark rum
300g plain white flour
125g unrefined cane sugar
1 tsp baking powder
pinch of salt
200g cold butter, cut into small chunks
1 egg yolk, plus one lightly beaten egg
2 tbsps ice water
1 kilo (about three) Goudreinette apples, cored, peeled and roughly chopped
1 1/2 tbsps custard powder
2 tbsps vanilla sugar
2 tsps cinnamon
2 tbsps apricot jam
Method:
Rinse your currants and raisins. Transfer to a small bowl and drizzle with rum. Allow the dried fruit to plump up for about an hour while absorbing the flavour of the rum.
Put flour, sugar, baking powder and salt in the food processor and pulse briefly. Add the butter and pulse again until the mixture resembles coarse breadcrumbs. Add the egg yolk and water. Continue to press on the pulse button until the dough comes together. Remove the dough from the processor bowl and squeeze into a ball. Wrap in plastic and
refrigerate for about an hour.
After the hour has passed, preheat your oven to 180C and take your dough out of the fridge.
Mix the apple chunks with the custard powder (this prevents the crust from getting soggy), the vanilla sugar, the cinnamon and the drained currants and raisins.
Lightly butter a 22 cm springform pan and dust with flour, shaking off the excess and making sure every inch is evenly covered. On a floured surface, roll out 3/4 of your dough into a circle, saving the rest for the top of the pie. Transfer to the prepared pan and evenly press the dough up against the edges of the pan. Fill with the apples.
Roll out the rest of the dough into a disk of approximately 1/2 cm thickness. Cut out strips of dough about 1 cm wide and arrange over the pie in a criss-cross pattern.
Brush the top of the pie with beaten egg yolk and bake on the lowest rack of your oven for one hour. Cover with foil and bake for another fifteen minutes.
Warm up the apricot jam in a pan until it acquires a more liquid consistency. Remove from the heat. Take your pie out of the oven and immediately brush with apricot jam while it is still hot. Let it cool on a wire rack for at least fifteen minutes before removing the ring.
Serves 8
Dave's Hot Fudge Sauce
Makes 1 1/2 cups
1/2 cup unsweetened cocoa powder (natural or Dutch-process)
1/2 cup granulated sugar
1/2 cup whipping cream
3 tablespoons butter
1/2 teaspoon pure vanilla extract
Place cocoa and sugar in a small, heavy saucepan. Stir in just enough cream to make a smooth, thick paste. Then stir in the rest of the cream and add butter pieces. Stir over low heat until the butter is melted and the sauce is smooth and hot but not simmering.
Taste, and add vanilla. The flavor can also be adjusted with a little extra sugar, or toned down in intensity with a little more butter or cream.
Serve the sauce over ice cream. Or, for frosting, cool until spreadable. The sauce keeps in a covered container in the refrigerator for a week, or can be frozen for up to 3 months. To reheat (and thaw), put sauce in a heatproof bowl set in a wide skillet of barely simmering water, and stir occasionally until the sauce is the desired consistency.
Or microwave on medium (50 percent) power, using short bursts and stirring frequently. Do not allow the sauce to simmer or boil.
Pumpkin and Cream Cheese Roll
Prep: 45 min
Cooking: 13 min
Cooling time: 1 hrs refrigerating
Yields: 10
Ingredients
CAKE
1/4 cup powdered sugar (to sprinkle on towel)
3/4 cup all-purpose flour
1/2 teaspoon baking powder
1/2 teaspoon baking soda
1/2 teaspoon ground cinnamon
1/2 teaspoon ground cloves
1/4 teaspoon salt
3 large eggs
1 cup granulated sugar
2/3 cup LIBBY'S® 100% Pure Pumpkin
1 cup walnuts, chopped (optional)
FILLING
1 pkg. (8 oz.) cream cheese, at room temperature
1 cup powdered sugar, sifted
6 tablespoons butter or margarine, softened
1 teaspoon vanilla extract
Powdered sugar (optional for decoration)
Directions
FOR CAKE:
PREHEAT oven to 375° F. Grease 15 x 10-inch jelly-roll pan; line with wax paper. Grease and flour paper. Sprinkle a thin, cotton kitchen towel with powdered sugar.
COMBINE flour, baking powder, baking soda, cinnamon, cloves and salt in small bowl. Beat eggs and granulated sugar in large mixer bowl until thick. Beat in pumpkin. Stir in flour mixture. Spread evenly into prepared pan. Sprinkle with nuts.
BAKE for 13 to 15 minutes or until top of cake springs back when touched. (If using a dark-colored pan, begin checking for doneness at 11 minutes.) Immediately loosen and turn cake onto prepared towel. Carefully peel off paper. Roll up cake and towel together, starting with narrow end. Cool on wire rack.
FOR FILLING:
BEAT cream cheese, 1 cup powdered sugar, butter and vanilla extract in small mixer bowl until smooth. Carefully unroll cake. Spread cream cheese mixture over cake. Reroll cake. Wrap in plastic wrap and refrigerate at least one hour. Sprinkle with powdered sugar before serving, if desired.
COOKING TIP:
Be sure to put enough powdered sugar on the towel when rolling up the cake so it will not stick.
Mascarpone White Chocolate Mousse with Raspberry Lemon Sauce
From: http://www.sugarplumblog.net/2011/08/mascarpone-white-chocolate-mousse-with.html
The raspberry sauce is simple and delicious; it's pureed raspberries cooked together with a little sugar and fresh lemon juice. Actually, the entire dessert is pretty easy, and no oven is required!
I may like white chocolate mousse even more than regular ol' chocolate mousse. Is white chocolate mousse anyone else's favorite frozen yogurt flavor? It's my favorite flavor, hands down.
Mascarpone White Chocolate Mousse with Raspberry Lemon Sauce

2 large egg whites
1 cup heavy whipping cream
1/4 cup + 2 tablespoons granulated sugar, divided use
8 ounces mascarpone cheese, room temperature
1 cup white chocolate chips, melted
1/2 a vanilla bean, seeds scraped out
1 teaspoon finely grated lemon zest
6 ounces fresh raspberries
1 tablespoon fresh lemon juice

In a large mixing bowl, using a mixer on high speed, beat egg whites until stiff peaks form.

In an additional large mixing bowl, using a mixer on high speed, beat cream and 1/4 cup sugar until stiff peaks form; fold egg whites into whipped cream.

In a large mixing bowl, using a mixer on medium speed, beat mascarpone, melted white chocolate, vanilla bean seeds and lemon zest until well combined and smooth; fold egg white-cream mixture into mascarpone mixture until just combined. Divide mousse into 8 ramekins. Cover and chill for one hour, or until ready to serve.

To make the raspberry sauce, combine remaining 2 tablespoons sugar, raspberries and lemon juice in a small saucepan over medium heat. Bring the mixture to a boil, stirring frequently, and crushing berries with spoon; boil 2 minutes. Transfer raspberry sauce to a food processor, and puree until smooth. Strain sauce into a small bowl. Serve mousse with a drizzle of raspberry sauce.

Makes 8 servings