Robert and Ellyn are happy to announce that on 31 August 2002 we were married at Kasteel Radboud in Medemblik, the Netherlands

Wedding Announcement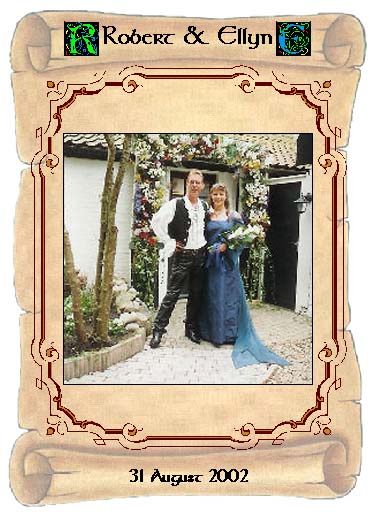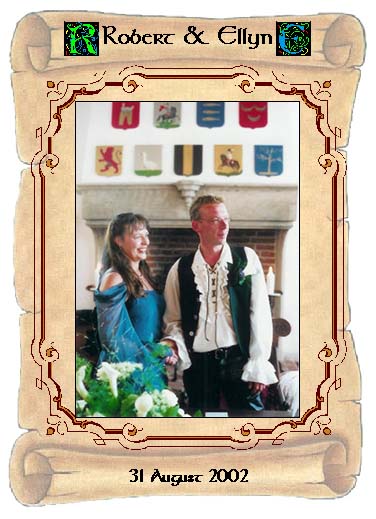 Wedding Invitation
Open House & BBQ Invitation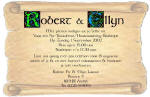 Wedding Program (English / Nederlands)
Reading and Music
The Invitation
Read by Caro Sherie
It doesn't interest me what you do
for a living.
I want to know what you ache for
and if you dare to dream of meeting your heart's longing.
It doesn't interest me how old you
are.
I want to know if you will risk looking like a fool
for love
for your dream
for the adventure of being alive.
It doesn't interest me what planets
are squaring your moon...
I want to know if you have touched the centre of your own sorrow
if you have been opened by life's betrayals
or have become shrivelled and closed
from fear of further pain.
I want to know if you can sit with
pain
mine or your own
without moving to hide it
or fade it
or fix it.
I want to know if you can be with
joy
mine or your own
if you can dance with wildness
and let the ecstasy fill you to the tips of your fingers and toes
without cautioning us to
be careful
be realistic
remember the limitations of being human.
It doesn't interest me if the story
you are telling me
is true.
I want to know if you can
disappoint another
to be true to yourself.
If you can bear the accusation of betrayal
and not betray your own soul.
If you can be faithless
and therefore trustworthy.
I want to know if you can see Beauty
even when it is not pretty
every day.
And if you can source your own life
from its presence.
I want to know if you can live with
failure
yours and mine
and still stand at the edge of the lake
and shout to the silver of the full moon,
"Yes."
It doesn't interest me
to know where you live or how much money you have.
I want to know if you can get up
after the night of grief and despair
weary and bruised to the bone
and do what needs to be done
to feed the children.
It doesn't interest me who you know
or how you came to be here.
I want to know if you will stand
in the centre of the fire
with me
and not shrink back.
It doesn't interest me where or what
or with whom
you have studied.
I want to know what sustains you
from the inside
when all else falls away.
I want to know if you can be alone
with yourself
and if you truly like the company you keep
in the empty moments.
© Oriah Mountain Dreamer http://www.oriahmountaindreamer.com
Sonnet XVII (English)
Read by Robert and Ellyn
I do not love you as if you were salt-rose, or topaz,
or the arrow of carnations the fire shoots off.
I love you as certain dark things are to be loved,
in secret, between the shadow and the soul.
I love you as the plant that never blooms
but carries in itself the light of hidden flowers;
thanks to your love a certain solid fragrance,
risen from the earth, lives darkly in my body.
I love you without knowing how, or when, or from where.
I love you straightforwardly, without complexities or pride;
so I love you because I know no other way
than this: where I does notexist, nor you,
so close that your hand on my chest is my hand,
so close that your eyes close as I fall asleep.
© Pablo Neruda, 100 Love Sonnets, translated by Stephen Tapscott
Sonnet XVII (french)
Je t'aime parce que je t'aime et
voilà tout
et de t'aimer j'en arrive à ne pas t'aimer
et de t'attendre alors je ne t'attends plus
mon coeur peut en passer du froid à la brûlure.
Je ne t'aime que parce que c'est toi
que j'aime,
et je te hais sans fin, te hais et te supplie,
et la mesure de mon amour voyageur
est de ne pas te voir, de t'aimer en aveugle.
Et si, lumière de janvier, tu consumais
ton rayon cruel, et mon coeur tout entier,
me dérobant la clef de la tranquilité ?
En cette histoire je n'arrive qu'à
mourir
et si je meurs d'amour, c'est parce que je t'aime,
parce que d'amour, je t'aime, et à feu et à sang.
© Pablo Neruda, centaine d'amour,
traduction de Jean Marcenac et André Bonhomme
Soneto XVII (Spanish)
No te amo como si fueras rosa de sal,
topacio
o flecha de claveles que propagan el fuego;
te amo como se aman ciertas cosas oscuras,
secretamente, entre la sombra y el alma.
Te amo como la planta que no florece y
lleva dentro de si, escondida, la luz de aquellas
flores,
y gracias a tu amor vive oscuro en mi cuerpo
el apretado aroma que ascendis de la tierra.
Te amo sin saber como, ni cuando, ni de
donde,
te amo directamente sin problemas ni orgullo;
asi te amo porque no si amar de otra manera,
sino asi de este modo en que no soy ni
eres,
tan cerca que tu mano sobre mi pecho es mia,
tan cerca que se cierran tus ojos con mi sueno.
© Pablo Neruda, Cien
Sonetos De Amor
What a Wonderful World
Played by Mike Larson on Trumpet
I see trees of green, red roses too
I see them bloom for me and you
And I think to myself, what a wonderful world
I see skies of blue and clouds of
white
The bright blessed day, the dark sacred night
And I think to myself, what a wonderful world
The colours of the rainbow, so
pretty in the sky
Are also on the faces of people going by
I see friends shakin' hands, sayin' "How do you do?"
They're really saying "I love you"
I hear babies cryin', I watch them
grow
They'll learn much more than I'll ever know
And I think to myself, what a wonderful world
Yes, I think to myself, what a wonderful world
Oh yeah
© Louis Armstrong  (George Weiss / Bob Thiele)
Love Walked In
Played by Mike Larson on Trumpet
Love walked right in, and drove the
shadows away
Love walked right in, and brought my sunniest day
One magic moment, and my heart seemed to know - that love said hello
Though not a word was spoken
One look, and I'd forgot the gloom of the past
One look, and I had found my future at last
One look, and I had found a world completely new
When love walked in with you
© Lyrics by Ira Gershwin, Music by George Gershwin (1938)