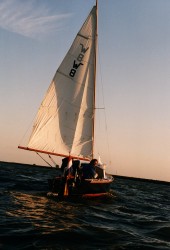 This page is about the adventures of our Waarschip 600 wooden sail boat named Passaat, also known as W8, and Vrouwe Maria.The boat is now in England with family.
We believe that she was built in 1962 as a pre-production boat, her number is 8, by Waarschip near Groningen in Friesland. The name Waarschip is in reference to the town 't Waar where the first ships were built.
I bought Passaat back in 1995 in Durgerdam north of Amsterdam. I had her at a marina in Durgerdam and then in Amsterdam nearby our apartment. We sailed her around the southern part of the IJsselmeer (Lake IJssel) known as the Markermeer and sometimes in the Amsterdam canals with her mast down.
When we moved to Andijk (between Enkhuizen and Medemblik) in 2001 we mostly sailed her in the northern part of the IJsselmeer, also known as the Zuiderzee (South Sea). She was berthed at our local marina WSV De Kreupel which was across the road from our house.
Due to health problems in 2009, we decided to have the boat used by others and it is now in England with  friends who we hope will enjoy her.