Note: Some of the links below are out-of-date or broken.
Sailing
This area is great for sailing, and we would recommend any of the small towns nearby for short sails or day trips to the other side of the IJsselmeer in Friesland. By boat you can sail from Andijk to Medemblik 4 miles, Den Oever (Waddenzee) 14 miles, Hindeloopen 15 miles, Stavoren 12 miles, Enkhuizen 10 miles. Be aware that the IJsselmeer is very shallow and can become very gusty quickly. You can rent sailboats at Andijk Jacht Verhuur. You may be able to talk some of the locals into taking you out if you don't want to rent your own boat.
Boating and Canoeing
You can boat almost everywhere here, including to our house. You can rent canoes and boats with or without outboards at the De Vlietlanden in Wervershoof, Bootverhuur Enkhuizen  in Enkhuizen and Bovenkarspel (Streekbos Paviljoen),  or  Poldervaart Rijo in Lutjebroek.
Swimming and Wind/Kite Surfing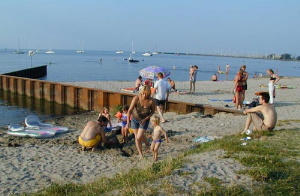 You can swim at the Vooroever recreational area in Andijk or Medemblik in the Ijsselmeer. It's low depth and especially good for kids (beaches are not supervised). You have to walk 50 meters out to get wet — so it's only good for the bravest of nude swimmers. The beaches are within walking distance of all the bungalow parks and also our house.
There is an outdoor pool in Andijk Zwembad De Weid. Indoor pools are in Wervershoof Zwembad de Zeehoek, in Enkhuizen Recreatiebad Enkhuizerzand and and Hoorn De Waterhoorn. Most of the bungalow parks have pools for guests.
You can windsurf and kite surf at the nearby beaches, and the one in Andijk is known to be especially good (need to bring your own board).
Walking, Bird watching and Fishing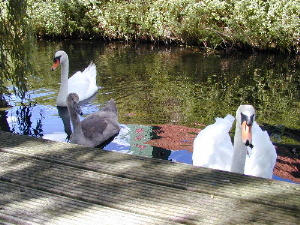 The Vooroever recreational area stretches from Andijk to Medemblik and is a good place to walk, watch birds and do some fishing. The type of birds and fish that can be found in the IJsselmeer can be found at www.ijsselmeeralmanak.nl
There are a few bird watching huts, and some areas are only accessible via boat. We have an English bird book with the European birds if you want to borrow it.
There are also many good fishing areas nearby. You you can fish in the canals anywhere or the IJsselmeer. You may want to even try fishing for one of the local delicacies called Paling (eel). You need a fishing license, which can be purchased at most of the bungalow parks or where you buy fishing gear at Pet's Family De Moel Wervershoof.
Bicycling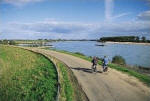 Bicycles are for rent in every hotel, bungalow park and village for about €5 per day or € 25 per week for a standard "Dutch" model. They are the primary method of transportation here, so if you decide not to get a car, it's very feasible to bike everywhere here.
There are bicycle depots where you can rent bikes at the bigger train stations. You can often rent bikes with speeds, tandems, mountain bikes, children's bikes and child seats. You can also bring bikes onto the trains if you choose to rent a bicycle to go to other areas in The Netherlands or Europe. For general information about cycling in the Netherlands Cycling in The Netherlands.
All bicycle paths are well marked, and bicycles defintely have the right of way in Holland. The smallest country roads and lanes, cycling tracks and villages are indicated on the combined cycle/road maps of the ANWB/VVV Tourist Information Office available for every province in Holland. The ANWB also supplies maps on-line at.
If you are really serious, give the North Sea Cycle Route a try. It's 6000 km and definitely not for the casual cyclist. You can do part of it over the Afsluitdijk in the north of the IJsselmeer, which makes a nice day trip from Andijk. There are also long distance routes, such as the North Sea LF1 route covering 270 kilometres between the Belgian border and Den Helder in the north of Holland and extends through Europe.
Note: it's not common to rent helmets here, so you may want to bring your own with you.
Horse and Pony Riding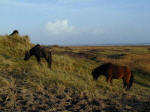 You can ride ponies at many of the bungalow parks or at Manege Goedhart in Andijk.
Golf and Tennis
There are courses at De Vlietlanden bungalow park in Wervershoof and the Westfriese Golfclub in Westwoud (12 km) from Andijk. For larger open courses try VVV Noord-Holland. Most of the bungalow parks have tennis.
Outdoor Games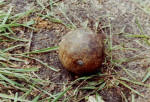 You can play Klootschieten (easier played than said), a medieval Dutch game where players throw wooden balls at a target on a many kilometer course at the Streekbos in Bovenkarspel. You can also do archery ther Recreatiecentrum Streekbos. There is also volleyball at the beach in Andijk, but you need to bring your own ball (or remind us to buy one).
Bowling / Karting
Bowling Partycenter Venhuizen and Bowling Kartcentrum Westfriesland have traditional bowling. Het Grootslag bungalow park has bowling, midget golf, pool, etc.
Shopping
Batavia Stad outlet shopping over the dik from Enkhuizen in Lelystad (25 km) .
Canal Pole Vaulting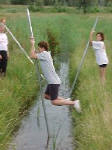 Polsstokverspringen (Fierljeppen in Frisian) is a traditional sport where you pole vault across canals. You can try it in Friesland, past Leeuwarden on the way to Groningen at Fierljepcentrum in Zwaagwesteinde.
Wadden Islands
If you want an excursion for a few days, try one of the 5 islands up North, with ferries leaving from Den Helder (50 km) or Harlingen (75 km) away. We especially like Terschelling and Vlieland, because there are very few cars and you can bicycle everywhere. They are also good for birdwatching and seals. All the islands have hotels, pensions, and campgrounds.
Mud Walking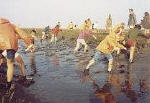 If you are on your way to the Wadden Islands or going to Friesland, you may want to try the Dutch sport of mud walking (wadlopen) to the islands, but you need to be in pretty good shape. For more information see www.wadlopen.com.
Motorcycling
If you are feeling adventurous, you can borrow a motorcycle for the Trans-Atlantic BikeShare .